Shopping, the use in JR TOWER is smartphone application becoming convenient more happily.


Visit point of JR TOWER square card can acquire even application just to register customer number with application. Furthermore, we can confirm the point balance anytime and are convenient.
※JR TOWER square card customer number and registration of the date of birth of customer are necessary for application.
※Acquisition point of either much becomes effective by card collator and application in JR TOWER building.
※We are given visit point that we acquired by application after the next day.
※We can acquire visit point and are 10:00-23:00 at time.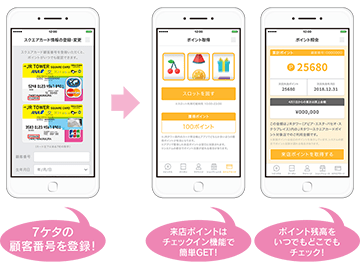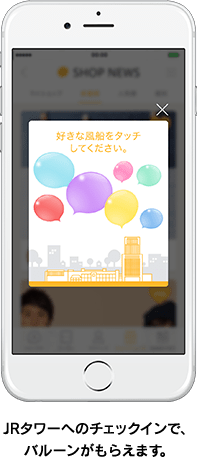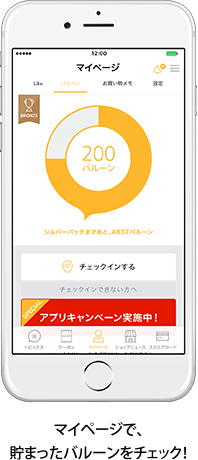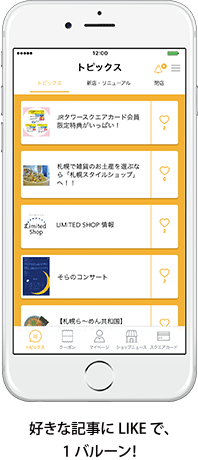 Checking in from application at the time of visit to each JR TOWER shop,
By LIKE action of article, we are given balloon.
By saving balloon given
You can get wonderful privilege.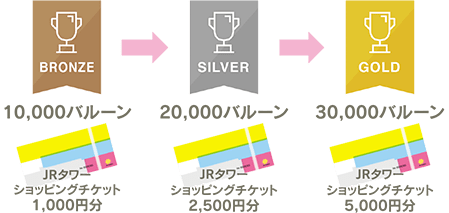 ・Please set Bluetooth in ON.
・At check-in time, it is 7:00-24:00.
・We can perform grant of balloon by check-in about application once a day.
・Balloon appearing in one lottery is 10-1,000 balloon.
・Shop news, article of topics are given balloon by performing LIKE action. Balloon to be given by LIKE action is 1 balloon about LIKE1 time.
・Balloon to be given by LIKE action is up to ten balloons a day. But LIKE action is possible ten times or more, but is not given balloon.
・We will send out JR TOWER shopping ticket by tightening by the end of the month on the end of the month of balloon exchange application month.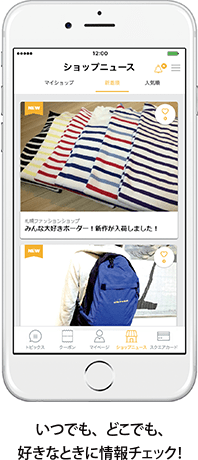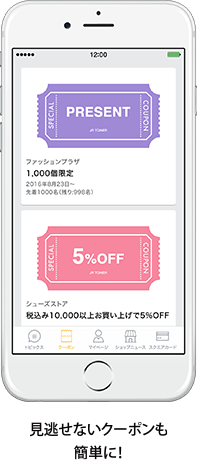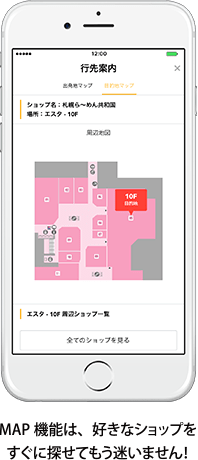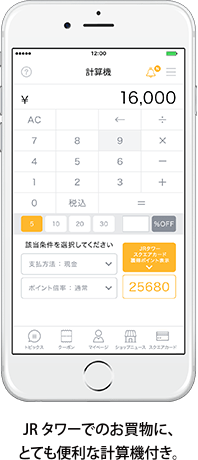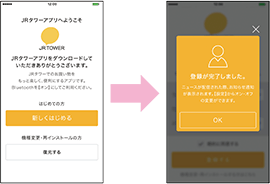 We start application after the installation → "Welcome to JR TOWER application" → Explanation of application begins when we tap "we begin newly". It is registration completion when we input sex, area to live with "initial setting" screen on the date of birth. The name, personal information of phone number are not necessary.
Movement environment

More than iOS11 more than Android4.3 (may not work with some models normally)
iPhone, iPod touch are trademarks of Apple Inc. registered in the United States and other countrieses. App Store is service mark of Apple Inc.
Android, Google Play are trademark of Google Inc. or registered trademarks.