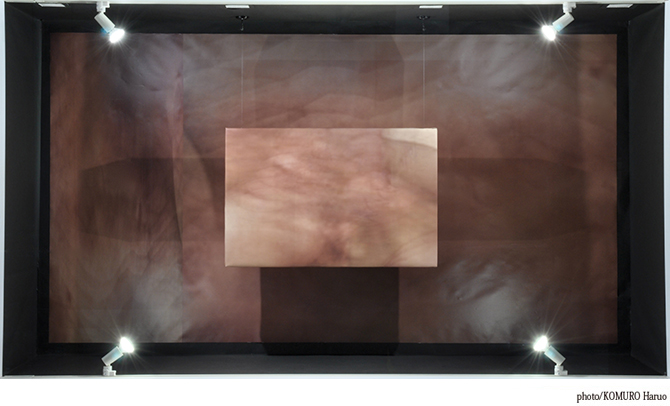 What is art box?
We start display in cause, 2009 of concept called upbringing of new face writer, and art box provides place of new announcement and has customer coming and going between the sky which is public enjoy art.
The 50th display is "boundary" of Akira Kiyotake chosen by open call for participants work (border).
We feature the theme of thing "boundary" to disagree with such as not being seen to see not to understand to understand (border) and produce work.
We will catch up with you and stare at outline what is drawn and run after outline while further imaging.
Thing to see as expected over there is ...
Please see work of Kiyotake whom future achievement is expected of by all means at this opportunity.

Display period: From Tuesday, September 1, 2020 to Monday, November 30, 2020
場所 JR TOWER the first floor east concourse
boundary (border)
(writer comment)
Though, together with person and thing to touch in daily life, there is surely outline in front,
We cannot possibly arrive in viewing to true outline.
There is such a sense in the root of work.
Each presence is in indistinctness while we put various figures on top of one another,
We express moment to lose original form in work.
We stand before work calmly and are about to lose figure and want you to trace outline every hidden thing.

Sho Kiyotake (as of June, 2020)
■Brief career history
It was born in Ibaraki-shi, Osaka for 1,989 years
2014 Hokkaido University of Education graduate school completion
2009 private exhibition "From 18 to 20 years old" (atelier 3 more/Otoineppu-mura)
85 times of 2010 85th going by a roundabout way exhibition commemorative grand prix
With 2011 65th two period exhibition choice (... 2013)
For 2012 private exhibition "shijimano lingering sound" (saitou gallery/Sapporo-shi)
"Put private exhibition to interval" in 2014 (to ov cafe/ Sapporo-shi)
"Put private exhibition to interval" (art hall east bank hall/Fukagawa-shi)
2015 private exhibition "coffin of existence" (charohoozato/Sapporo-shi)
Seem to be able to see 2019;/invisible Uchiyama Eri, honoshiyona, Akira Kiyotake (hokusen gallery ivory/ Sapporo-shi)
Pebeo Mixed Media Exhibition (Menier Gallery/ London)
2020 private exhibition "boundary" (Gallery Retara/ Sapporo-shi)
JR TOWER ARTBOX open call for participants award for excellence awarding