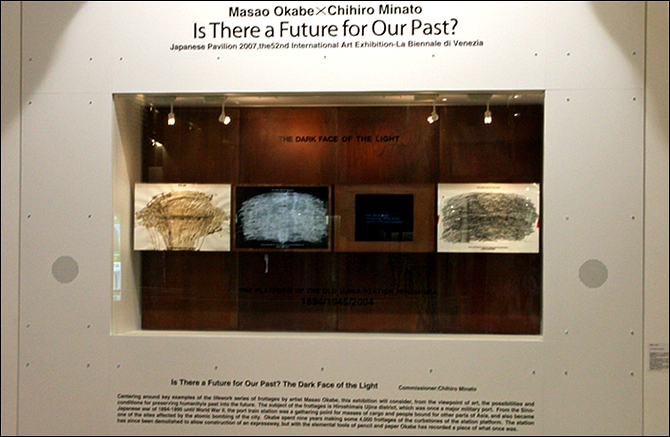 What is art box?
With JR tower, various art acts in the same play in concourse, mall, parking lot, various places including store.
By JR tower art project, we obtain JR tower east concourse for upbringing of young artist taking the opportunity of the fifth anniversary as the second stage and come ☆We installed "art box" in the studio side.
About work to display in "art box", we invite public participation for the public and hold award and will commend excellent work.
Frottage work which we displayed by Venice Biennale of Masaki Okabe who is international artist who represents Japan in Venice Biennale international art exhibition Japan building selection writers in the 52nd in 2007 because we have you recognize "art box" as the first display work widely will display "monument of memory" of "is there in the future in our past?".




Masao Okabe (May, 2008)
It was born in Nemuro, Hokkaido for 1,942 years
We begin production by frottage with street from 1977.
We stayed in Eve reshurusenu who was next to 13 wards of Paris in 1979 and produced 169 points of "skin of city".
It is entrusted with production of "Hiroshima" in 1986 by Hiroshima City Museum of Contemporary Art establishment preparations room
In 1987, we start production of "1987/88 street of Hiroshima -8 month".
We produce "N `OUBLIEZ PAS" (we do not forget) which scraped nameplate ticking away historical fact of abduction in Jewish quarter of Paris in 1996. Since Australia of 1988, frottage collaboration in Noosa, we carry out collaboration and workshop with citizen positively and develop production, exhibition activity in each domestic and foreign cities.
Present, Sapporo Otani University art course's professor