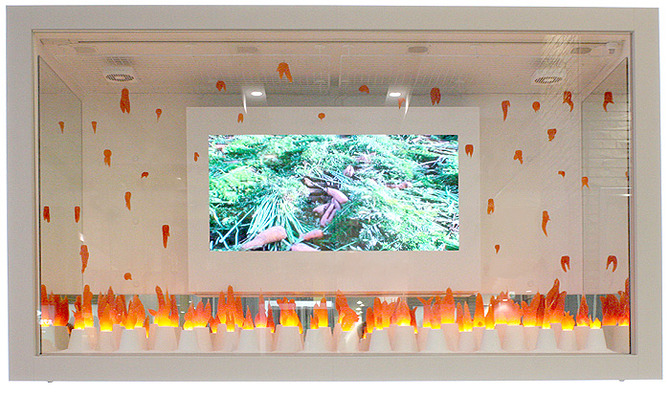 What is art box?
With JR tower, various art acts in the same play in concourse, mall, parking lot, various places including store.
By JR tower art project, we obtain JR tower east concourse for upbringing of young artist taking the opportunity of the fifth anniversary as the second stage and come ☆We installed "art box" in the studio side.
About work to display in "art box", we invite public participation for the public and hold award and will commend excellent work.
The third will display work "Funny Carrot" (funny carrot) which featured the theme of carrot thrown away by Keiko Kumazawa who is glass molding, contemporary art writer.
Keiko Kumazawa (as of November, 2008)
It was born in Yokohama for 1,970 years
Musashino Art University molding department architecture subject is a graduate for 1,993 years
We are a graduate from Institute for Toyama glass molding molding department for 1,996 years
Institute for 1997 Toyama glass molding graduate course graduation
We perform glass molding by Kiln work now in Minamifurano-cho, Hokkaido.
[private exhibition (installation)]
1999 Glass Installation -Co-Nature-/ GALERIE SOL (Tokyo, Waseda)
Contradiction -/GALERIE SOL (Tokyo, Ginza) of 2003 Carrot Installation - supply and demand
Form -/GALERIE SOL (Tokyo, Ginza) of in conflict with form of 2004 Carrot Installation - nature
2005 Glass Carrot Installation - Odd Carrot -/GALERIE SOL (Tokyo, Ginza)
2006 Glass Carrot Installation - Odd Carrot -/FLOW MOTION (Hokkaido, Obihiro)
2007 Glass Carrot Installation - Carrot Tunnel -/GALLERY Monma ANNEX (Hokkaido, Sapporo)
2007 Glass Installation/ Hirofumi temple art gallery (Hokkaido, Obihiro)
2008 Carrot Installation/ GALERIE SOL (Tokyo, Ginza)
[private exhibition (glass exhibition)]
2001 glass exhibition/Tokyu Toyoko S pass (Tokyo, Shibuya)
2003 glass exhibition/Hokkaido hotel (Hokkaido, Obihiro)
2004 glass exhibition/create square (Hokkaido, Furano)
2005 glass exhibition/Hokkaido hotel (Hokkaido, Obihiro)
2006 glass exhibition/create square (Hokkaido, Furano)
Smell glass exhibition /cafe restaurant&gallery tree in 2007 (Hokkaido, Nakafurano), others
[group exhibition, others]
Winning New Glass Review 18 for 1,997 years (The Corning Museum Of Glass. New York)
1999 Landscape scenery exhibition/Pepper's Gallery (Tokyo, Ginza)
2001 E exhibition (environmental art)/tree no leaf art gallery (Tokyo, Kanda)
Win with 2002; international modern art exhibition "demeteru" support staff (Hokkaido, Obihiro)
      Shiseido word display/Shiseido headquarters building (Tokyo, Ginza)
The 2006 Kitami contemporary art exhibition -10/north net zone Kitami Cultural Center Museum (Hokkaido, Kitami)
2008 meal and contemporary art part4 "restaurant building 1929" "Yokohama art noren town "/BankART1929 (Kanagawa, Yokohama),
      Flower and environment, art scene 2008/Manabe Garden (Hokkaido, Obihiro)