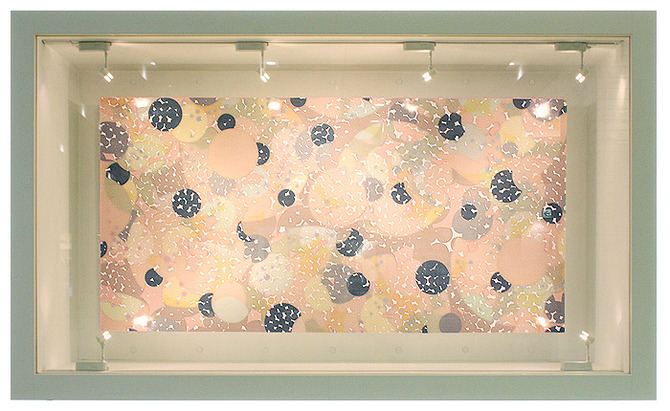 What is art box?
With JR tower, various art acts in the same play in concourse, mall, parking lot, various places including store.
By JR tower art project, we obtain JR tower east concourse for upbringing of young artist taking the opportunity of the fifth anniversary as the second stage and come ☆We installed "art box" in the studio side.
From this year, we will display work chosen as award for excellence from general work which we invited public participation for every three months.
The first work of Yuki Yamamoto "cannot see, can see".
Yuki Yamamoto (as of May, 2009)
It was born in Obihiro-shi, Hokkaido for 1,981 years
2007 Hokkaido University of Education graduate school pedagogy graduate course subject education specialty art education specialization (oil painting) completion
[main private exhibition]
2006 Yuki Yamamoto art exhibition/Sapporo artist gallery
[main group exhibition]
Range/Free Space PRAHA (Sapporo) out for 2,004 years
      Print exhibition -/gallery BE & be (Nagoya) of adult synthesis - next generation, CAP HOUSE (Kobe), Free Space PRAHA (Sapporo)
2005 Hokkaido University of Education Sapporo school art department graduation production exhibition/Sapporo clock tower gallery
      For oneself art bai itai U50,000/CAI (Sapporo)
2006 PLUS 1 exhibition/Continental gallery (Sapporo)
      One! dafuruatoparedo/JR TOWER (Sapporo)
2007 first FIX! MIX! MAX! AWARD winner exhibition/CAI (Sapporo)
      post ship exhibition002/soso cafe (Sapporo)
      Hokkaido University of Education Graduate School completion production exhibition/Sapporo clock tower gallery
The 2008 SAG INTRODUCTION/charohoozato gallery (Sapporo)
      FIX, MIX, MAX! Mori Art Museum of TAKEDAsystem vol.009 Yuki Yamamoto exhibition/Sapporo shrine in front line - of 2-modern art
      on the wall/off the wall SAG three exhibition/STV Kita-2-jo building entrance hall (Sapporo)
[receiving a prize career]
Grand prix of the 80th anniversary of way exhibition for 2,005 years of the 80th anniversary