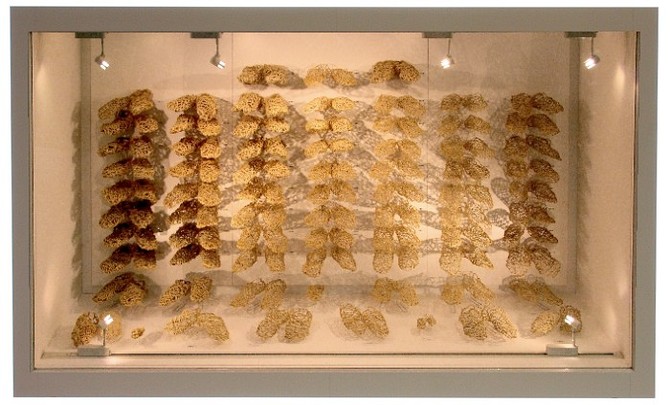 What is art box?
With JR tower, various art acts in the same play in concourse, mall, parking lot, various places including store.
By JR tower art project, we installed "art box" in JR tower east concourse for upbringing of young artist taking the opportunity of the fifth anniversary as the second stage.
From this year, we will display work chosen as award for excellence from general work which we invited public participation for every three months.
The second work is "spoor which 74 people memorize" of Yoko Tamura.
Yoko Tamura (as of July, 2009)
It was born in Yoichi-cho, Hokkaido for 1,949 years
[main private exhibition]
1999 gallery horse chestnut tree (Kyoto)
2002 gallery tapio (Sapporo)
2006 [spoor which 50 people memorize] gallery Monma ANNEX (Sapporo)
[main group exhibition]
First "international control Shintate body molding open call for participants exhibition" is winning (Nagoya '93, '95, '98) for 1,991 years
"Morning sun modern craft exhibition" is winning (Osaka, Tokyo '97, '98) for 1,995 years
2008 Hokkaido solid expression exhibition '08 (we exhibit in Hokkaido Museum of Modern Art/Sapporo '03)
[others]
2005 Yoko Muronoi solo dance "kagiroi" clothes, art (CAI/ Sapporo)
2005 original Masumi concert, art (Akebono civilization building/Sapporo)