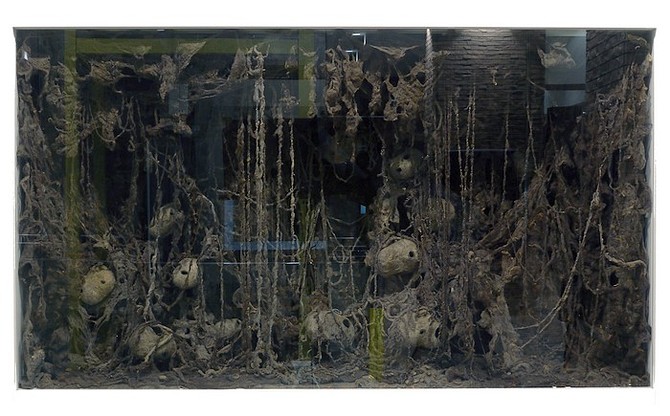 What is art box?
With JR tower, various art acts in the same play in concourse, mall, parking lot, various places including store.
By JR tower art project, it was intended that we provided place of new announcement taking the opportunity of the fifth anniversary in artists of Hokkaido as the second stage and installed "art box" in JR tower east concourse.
From 2009, we display work chosen as award for excellence from general work which we invited public participation for every three months.
Work is "cocoon which is Gloomy cocoons - shade depression" of Chiasa Murakami in the fourth in 2010.
Chiasa Murakami (as of February, 2011)
It was born in Osaka for 1,973 years
1995 nennariyasuzokeitankidaigakuzokeigeijutsugakubu design non-degree graduate program graduation
We emigrate to Hokkaido in 2002
[receiving a prize career]
2008 twelfth Flag art exhibition 2008 in GIFU winning a prize
2009 twelfth AIDS charity art exhibition National Art Center, Tokyo open call for participants section winning a prize
[exhibition career]
2007 WORLD IN MOTION 2.0 "place ... of ... opening over memory" Obihiro-shi
Composition exhibition "colony" north for 2,009 years in the ninth Obihiro-shi
2009 private exhibition "memory ... of offering of flowers - eternity" Obihiro-shi FLOWMOTION
Yaesu art gallery in visual art exhibition Higashikyoden of 2009 silk floss
2010 Fiber work 2010 I - X