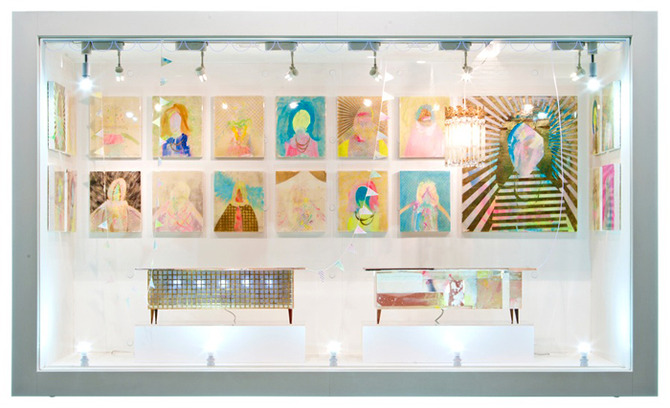 What is art box?
With JR tower, various art acts in the same play in concourse, mall, parking lot, various places including store.
By JR tower art project, we installed "art box" in JR the first floor of the tower east concourse for the purpose of contributing place of new announcement to artists of Hokkaido.
From 2009, we display work chosen as award for excellence from general work which we invited public participation for every three months.
Display work (the grand prix) of the first is "Utopia MoMo-Iro3" of Hiroshi Takeda in 2011.
Display period: From Wednesday, June 1, 2011 to Wednesday, August 31, 2011
場所 JR TOWER the first floor east concourse
Utopia MoMo-Iro3
Interest of author is that we reproduce beauty that we experienced in the past and impression that touched new thing through creation.
We put two series works which author focuses on together and, in art box, let Utopia called "Utopia MoMo-Iro" (yutopiamomoiro) appear.
The first series is "shrine" series. We assume the birthplace where author spent infant motif. Good old memory is woken by shaking whenever we go along the neighborhood.
The second series is "portrait" series. We take form of picture about person type, and "now" of the occasional author including interest matter of author and new technique is expressed.
We pray many people that you can take in refrain of impression that author received.
Hiroshi Takeda (as of June, 2011)
It was born in Sapporo-shi for 1,978 years
2003 Hokkaido University of Education art culture course graduation
[exhibition career]
2009 "Japanese writers - of bloom -N40 ° north of snowy district" Vanguard Gallery/ Shanghai/China
2010 "ko deer" Salon cojica/ Sapporo
      "Hiroshi Takeda exhibition" TO OV cafe/ Sapporo
      "EMERGING DIRECTORS' ART FAIR "ULTRA003"" Spirals garden/Tokyo 
2011 "THE BEGINNING -Exhibition of Hybrid Generation" Sapporo PARCO new building/Sapporo