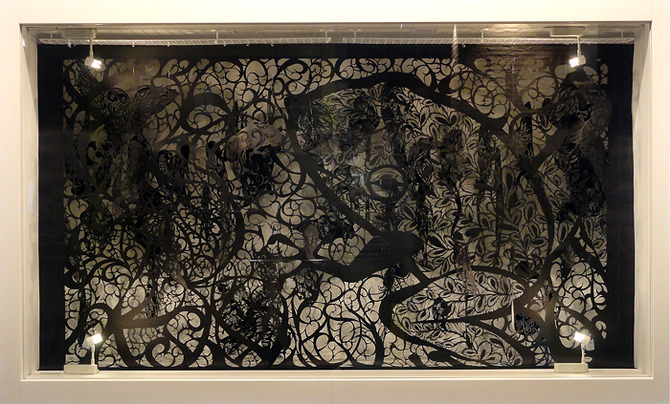 What is art box?
With JR tower, various art acts in the same play in concourse, mall, parking lot, various places including store.
By JR tower art project, we installed "art box" in JR the first floor of the tower east concourse for the purpose of contributing place of new announcement to artists of Hokkaido.
From 2009, we display work chosen as award for excellence from general work which we invited public participation for every three months.
Display work (award for excellence) of the third is "Forest yurayurafantajii which does not open" of Takemoto ten thousand tortoise in 2011.
Display period: From Thursday, December 1, 2011 to Wednesday, February 29, 2012
場所 JR TOWER the first floor east concourse
Forest yurayurafantajii which does not open
Work lets urban at one corner mysterious "Forest which does not open" appear by paper-cutting and is going to invite to the world of fantasy forgetting daily life incidentally.
Among urban crowds, Nature seems to be forgotten, but many creatures wriggle behind trees and the plant which grow thick now at this time in Forest flourishingly if we pay there more attention once.
We pray that we want you to have such a time that we human being is one of the creatures and checks that we live in now together and that life is really fantastic in noise and breathing of woodsmen.
Takemoto ten thousand tortoise (is good at, and surround the material) (as of December, 2011)
It was born in Akkeshi, Hokkaido for 1,974 years
[main private exhibition, group exhibition]
2011 "ten thousand cats exhibition" (furyu gallery/Sendagi)
2010 "ten thousand tortoise paper-cutting exhibition, briskly" (furyu gallery/Sendagi)
      "Letter etc exhibition" (furyu gallery/Sendagi)
2009 "ten thousand tortoise paper-cutting exhibition, slowly" (GalleryG2/ Ginza)
      "Strange go thing exhibition" (furyu gallery/Sendagi)
      "Mix.Juce exhibition" (clock tower gallery/Sapporo)
2008 "wriggling smart thing exhibition" (furyu gallery/Yoyogi)
      "Cat and mouse exhibition" (CafeGallery Seed/ Kanagawa)
      "Frog exhibition" (furyu gallery/Yoyogi)
The 2007 "world of ten thousand tortoise paper-cutting" (art space JIS is/Kushiro)
      "The world of ten thousand tortoise paper-cutting" (CafeGallery Seed/ Kanagawa)