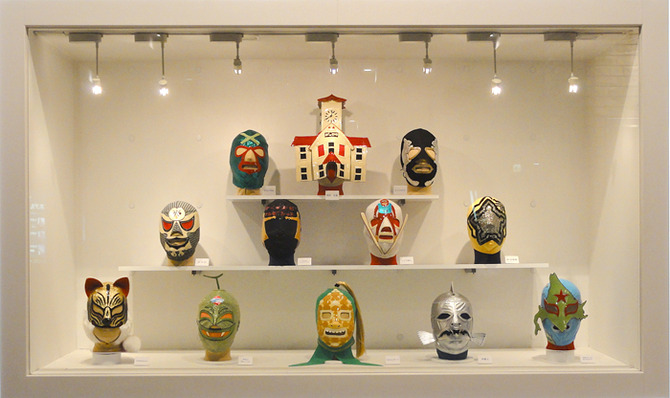 What is art box?
With JR tower, various art acts in the same play in concourse, mall, parking lot, various places including store.
By JR tower art project, we installed "art box" in JR the first floor of the tower east concourse for the purpose of contributing place of new announcement to artists of Hokkaido.
From 2009, we display work chosen as award for excellence from general work which we invited public participation for every three months.
Display work (award for excellence) of the first is "Hokkaido thulano leather" of Daisuke Kumagai in 2012.
Display period: From Friday, June 1, 2012 to Friday, August 31, 2012
場所 JR TOWER the first floor east concourse
Hokkaido thulano skin
We designed building, specialties, animal which symbolized Hokkaido on Mexican professional wrestling mask as motif. Incarnations of Hokkaido covered with mask see off coming and going people and they meet Sapporo Station.
If "this masked wrestler actually exists, ..." and person of appreciation have you participate in the work world freely and recall the time absorbed in the world of imagination and comics for adult at opportunity to stretch out wing of imagination for child and pray when they can cheer up.
Daisuke Kumagai (kumagaidaisuke - - lucha mask writer - -) (as of June, 2012)
It was born in Sapporo-shi for 1,973 years
We become a disciple of well-established mask studio of Tokyo in 2000
We deal with mask of player of member of society professional wrestling after the independence in 2004 and produce mask as art object, mask as party clothes in company and welfare facilities.
*Lucha mask is mask made of cloth used for professional wrestling called Lucha Libre (Lucha Libre) in Mexico, and "we fight" against lucha, and livret means "freedom".