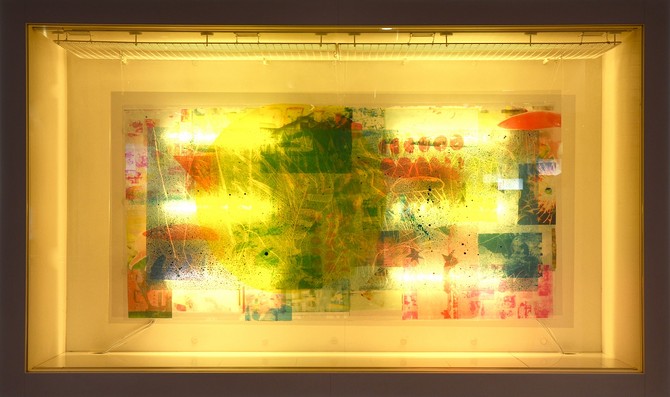 What is art box?
With JR tower, various art acts in the same play in concourse, mall, parking lot, various places including store.
By JR tower art project, we installed "art box" in JR the first floor of the tower east concourse for the purpose of contributing place of new announcement to artists of Hokkaido.
From 2009, we display work chosen as award for excellence from general work which we invited public participation for every three months.
Display work (award for excellence) of the third is "Autofiction" of sakaimana in 2012.
Display period: From Saturday, December 1, 2012 to Thursday, February 28, 2013
場所 JR TOWER the first floor east concourse
Autofiction
We look at the world through various filters in living and feel the life. In fact, we come under an influence of most of the outside including "memory" "conversation" "act" and are formed even if convinced that the filter concludes as original in oneself. And it is overwritten with "always updating newly", and the world viewpoint being done, and sometimes including "fiction". We caught fiction as filter every day and we put board using means called transcription and silk screen and put together like collage and expressed as thing such as autobiography or diary.
sakaimana (is slope now) (as of December, 2012)
It was born in Kitami-shi, Hokkaido for 1,987 years
Higher vocational school graduation Sapporo City for 2,008 years
2010 Sapporo municipal university design subject space design course graduation
Sapporo municipal university Graduate School design graduate course design specialty (master's course) is a graduate for 2,012 years
Winning 2012 JR TOWER ARTBOX public open call for participants, the award for excellence