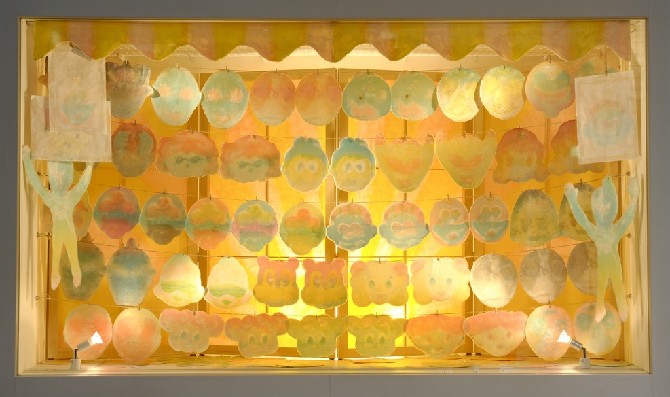 What is art box?
With JR tower, various art acts in the same play in concourse, mall, parking lot, various places including store.
By JR tower art project, we installed "art box" in JR the first floor of the tower east concourse for the purpose of contributing place of new announcement to artists of Hokkaido.
From 2009, we display work chosen as award for excellence from general work which we invited public participation for every three months.
Display work (award for excellence) of the fourth is "ochanokosaisai" of Yuhi Kazama in 2012.
Display period: From Friday, March 1, 2013 to Friday, May 31, 2013
場所 JR TOWER the first floor east concourse
ochanokosaisai
"ochanokosaisai" which assumed Omoya of festival of the young time motif. New memory piles up, and old memory loses form little by little and expresses memory that is vague, and became uncertain.
Oneself current appears by expressing current figure of memory that continues changing. We have many masks look, and tsumerunakakara, homesickness feel and think that author has people who saw variety, brightness of own possibility that felt take in in Omoya when we are young.
Yuhi Kazama (as of March, 2013)
It was born in Higashikawa-cho, Kamikawa-gun, Hokkaido for 1,982 years
Dohto University art department design subject is a graduate for 2,005 years
2006 seventh BAHARAT BHAVAN
      International print Biennale (India)
2008 Tokyo Zokei University graduate school molding graduate course completion
We win third kaishusakurakikinryugakusho in 2009 (we study in Germany for one year)
2010 Aomori international print Triennale, Aomori Bank prize
It is selected Tokyo Wonder wall open call for participants 2012 in 2012
Winning 2012 JR TOWER ARTBOX public open call for participants, the award for excellence