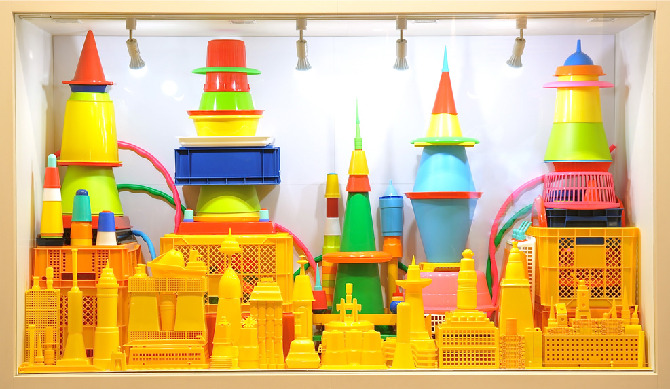 What is art box?
In JR TOWER, various art acts in the same play in concourse, mall, parking lot, various places including store.
By JR TOWER art project, we installed "art box" in the first floor of the JR TOWER east concourse for the purpose of contributing place of new announcement to artists of Hokkaido.
From 2009, we display work chosen as award for excellence from general work which we invited public participation for every three months.
As there is not applicable person about the grand prix as for the work display of 2013, we display three awards for excellence. The first display work is "color to fall from ka ruffle" of Takuji Nishida.

Display period: From Saturday, June 1, 2013 to Saturday, August 31, 2013
場所 JR TOWER the first floor east concourse
Collar which falls from ka ruffle
 Contrast of color is everyday difference in city and is sense of incongruity for the world,
It is boundary line itself. There is that only on the surface that only light colors pile up.
 Own reality by to rebuild colorful personal daily life, appear.
 Colorful act that we likened to city colors daily life colorfully, but it is violent so as to be superabundant, and there is weakness that is disorder nevertheless at the same time.
 In Sapporo Station where people come and go, we think that we can let such a pop "danger" appear.


■Comment of writer
At the age of university, there is time when we climbed mountain almost every week.
When we walked dangerous footing (rocky way) in Daisetsuzan, mark of arrow is marked with spray with red spray to rock for guidepost of mountain trail with kukkiri, and vividness of the color remains in impression strangely. As for the man-made bright color that we found in the mountain, it is prototypical experience that oneself has begun to use colorful color for.

Own production activity is managed from picture and two two wheelses called installation.
Picture work often does image that searched by PC and own past memory and admiration in motif.
We use many quotation, coTague of pattern design and image of dot and stripe and it is colorful for image and is work building on the plane violently.

We produce installation piling up colorful plastic by approach that is different from such a picture. Plastic structure where it is in moment of is managed on exquisite balance such as building block while being colorful, constructing temporarily is own reality itself to repeat daily life of copy & paste.
Strength/weakness that colorful color has, violence-related/temporary construction characteristics continue hiding behind in daily life.

In addition, act piling up plastic is one of the methods to tie oneself past and oneself current.
Building block play in the days of child is Lego blocking, and idle memory revives.
It was all equivalent in toy box and was a series of choice, and story existed only in oneself, too.

There is impulse to want to keep the moment when both picture work and installation work were lost (they seem to be lost) when we think so. Because we want to share the sense, we may put the thought in pop color.
Takuji Nishita (as of June, 2013)
It was born in Sapporo-shi, Hokkaido for 1,983 years
Hokkaido University of Education Sapporo school art culture course art course oil painting specialty is a graduate for 2,007 years
We study Hokkaido University of Education Graduate School pedagogy graduate course subject education specialty art education specialization Western painting in 2009 and complete
2010 "working flow" temporary space (Sapporo)
Each site in 2010 Iwamizawa art project "ZAWORLD II" Iwamizawa (Iwamizawa)
2011 "Asian Art Way in Shanghai 2011" peninsula 1919 Japan Bunkamura (Shanghai, China)
2012 "young writers - of everyday adventure - Japan" Odori, Sapporo basement gallery 500m Museum (Sapporo)
Winning 2013 JR TOWER ARTBOX public open call for participants, the award for excellence