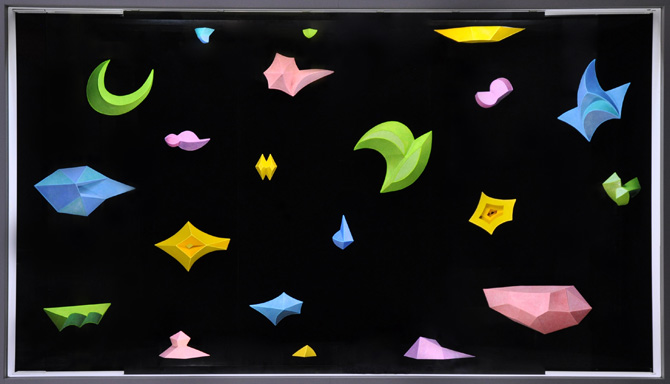 What is art box?
In JR TOWER, various art acts in the same play in concourse, mall, parking lot, various places including store.
By JR TOWER art project, we installed "art box" in the first floor of the JR TOWER east concourse for the purpose of contributing place of new announcement to artists of Hokkaido.
From 2009, we display work chosen as award for excellence from general work which we invited public participation for every three months.
As there is not applicable person about the grand prix as for the work display of 2013, we display three awards for excellence. The second display work is "crystal" of Yasuharu in hair.

Display period: From Sunday, September 1, 2013 to Saturday, November 30, 2013
場所 JR TOWER the first floor east concourse
Crystal
It is work letting place such as space and night sky appear in art box that displays this time.
Colorful molding thing of 21 big things and small things which assumed cardboard material rises from black space.
Each molding thing is abstract, but gives people the touch of "something" at the same time.
"Crystal" of work title refers to material with regular sequence of atom and molecules.
They are things indicating purified structure of the natural world at the same time to have a variety of expressions.
Molding thing each of work bringing remembrance to "bigger thing" to people now so that crystal lets you feel a part of principle of space and nature.
That is that each people finds expanse of own "sense" through the touch of "something" provided from work in "now here".
By display, eyes of coming and going people mix with existence of work now and think that we can invite resonance and resonance of consciousness.


■Comment of writer
What I am producing mainly now assumes cardboard material and is molding work which assembles after having colored with oil colors, and makes that three dimensional.
By matter (matter) made of putting oil colors many times, the surface has expression such as stone. In addition, let feel concrete relation with thing while work is abstract; have a shape. And as work is made into paper form, weight is light, and the inside is hollow.

"Weight" that color gives and "lightness" of material itself give optical illusion-like sense to people. Form and color, appearance and gap with reality bring disagreement and fluctuation of delicate sense. Of sense by seeing such a work swinging is very important element in my production. It gives instability of perception impression and fresh surprise to take in such a change in process producing work. By being stimulated by minute change, and taking, in work existence, new discovery and image occur. We determine the touch, and words cannot do it clearly. However, by passing through such a process, color and material are related to form closely, and work thinks that it is to thing which more strongly detonates people by contact.

Through seeing work, have the touch of "something" which cannot become language easily. That again with sense except sight and rouse memory own sense in consciousness of people and various things is to let connection feel.
Becoming mediation to bring expanse of "sense" in look of people that work comes and goes in front of it.
That becomes big motive to support my production activity.
Yasuharu (Yasuharu whom there is not anymore) in hair (as of September, 2013)
Brief career history
It was born in Ebetsu-shi, Hokkaido for 1,976 years
Musashino Art University molding department oil painting subject is a graduate for 1,999 years

Main exhibition
In a 2006 private exhibition "cold" gallery kaku (Tokyo)
2007 "people and art Hokkaido Museum of Modern Art (Sapporo) which grow on the Born in HOKKAIDO earth"
2008 "caravan corps "luna park" exhibition" art space Kimura ASK (Tokyo)
2010 "Hokkaido solid expression exhibition 10" Sapporo Art Museum (Sapporo)
2011 "writers - of 30 abstract sculptures exhibition - north" Sapporo sculpture Museum (Sapporo)
2012 "garden of Altair" Sapporo ESTA JR TOWER PLANIS HALL (Sapporo)

Receiving a prize, others
2001 16th horupein scholarship scholarship student
2011 Aichi art program "arts challenge 2012" winning Aichi art Cultural Center
Winning 2013 JR TOWER ARTBOX award for excellence