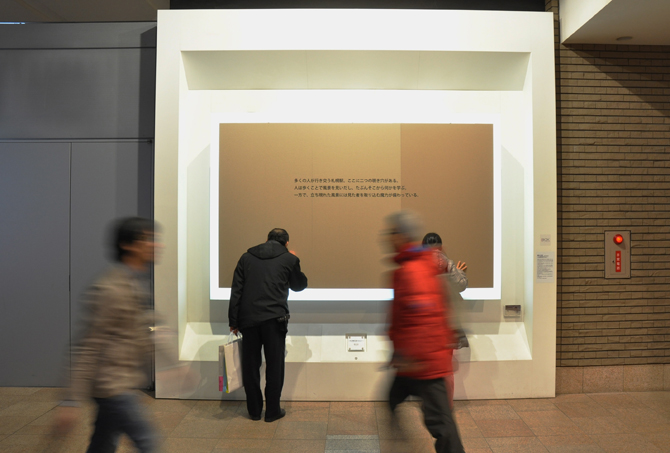 What is art box?
In JR TOWER, various art acts in the same play in concourse, mall, parking lot, various places including store.
By JR TOWER art project, we installed "art box" in the first floor of the JR TOWER east concourse for the purpose of contributing place of new announcement to artists of Hokkaido.
From 2009, we display work chosen as award for excellence from general work which we invited public participation for every three months.
Prize winner display of 2013 was carried out in writers of three awards for excellence. The fourth quarter in the work selection of proposal nomination of Masanori Fujiki "display zaidai*matonichishi "Kituru" Door peephole Series no.3 (door eye series).

Display period: From Saturday, March 1, 2014 to Saturday, May 31, 2014
場所 JR TOWER the first floor east concourse
zaidai*matonichishi "Kituru"
 dai* was under martial law until 1987. We do not endure and are not crying country that much now. Therefore we often learn from there. We seem to look back upon today's we Japanese by all means when we stay in dai* even slightly for a long time.
Is that because we mention gentleness as strength of dai*jin learning event of modern times as fact?
How long would "O-mo-te-na-shi" and thing that we brought out by centered period words with daringly become okay in Japan? And is made to think about figure called nation for granted, and personal state is called into question, too; seem to be made to mind. It is ... gently.
 Traveler finds individual scenery by always walking and it peeps out and sees.
 Traveler mistakes one room of the potentiality for foreign home.
 Traveler sometimes stops and we learn history even to some extent and begin to look at dai*.
 Is it excessive behavior of Japan which was to** whether it is present dai* that traveler sees there?
 Traveler wants to put Hokkaido in Japan darkly.
 We are dumfounded by fact and mountain of complicated fact and artificial history education where we piled on top of.


Masanori Fujiki (as of March, 2014)
Brief career history
It was born in Asahikawa-shi, Hokkaido for 1,952 years
2009 Platform in KIMUSA 2009
      (KIMUSA, former Korea military plane Takeshi law part trace/Seoul)
2012 Historical Parade: Interchange exhibition Imagesfromelsewhere in Korea
      (Seoul City art museum south annex/soul)
      Okayama art corridor temporary exhibition "scenery to be connected" (Kourakuen, Okayama-shi/Okayama)
Art (500m Museum/Sapporo) to go on a trip in 2013
      take*kosakushitsu 2013 opening workshop last inning "person of art act day"
      (Bamboo Curtain Studio/ Taipei)

Publication
1989 act business card exchange (modern Planning Office)
2000 information media idea (Yachiyo publication/joint work)