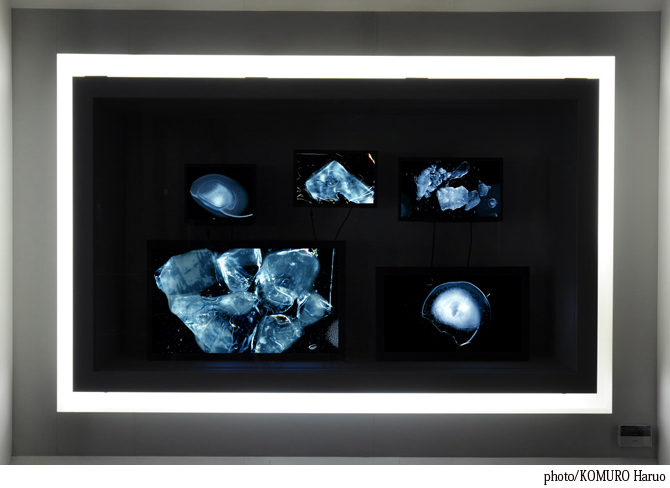 What is art box?
Sapporo Station General Development Co., Ltd. presents "JR tower art project" since the JR tower opening of business.
"Art box" is exhibit space that we installed in the first floor of the JR TOWER east concourse for the purpose of providing place of new announcement as the part in artists of Hokkaido from 2008.
We will display excellent work chosen by open call for participants work sequentially.
The second work display is Akitoshi Kitagawa "meltgram" this year.
We do Hokkaido in mind by environmental problem that included each domain of "nature, society, mind" mainly with field of production, and Kitagawa who it is photographer, and is picture writer pays the attention to historic background and landscape of land and produces photograph and work with video by concept and approach that we did in multi-layer characteristics at time.
  This work expresses phenomenon that some ice goes to melting point with animation using picture which taimurapusu shot and sends miracle of "being just over there" of vanishing state to by unprecedented approach. Please see by all means at this opportunity.



Display period: From Monday, September 1, 2014 to Sunday, November 30, 2014
場所 JR TOWER the first floor east concourse
meltgram
(writer comment)
This product assumed simple concept that tied glimmering of all things in nature to practical description that ice which varied in scale at first melted. However, sequence of ice which melted, and went was what or gave organic impression when we actually produced picture.
As a result, not flow that individual motifs face extinction linearly, we think that it is more vague and faced that it is mystery filled with fluctuations and feel depth in the finish of work more at first.
All things have unexpected accident with regularity. This world does not settle on one place, and, also, world fate would appreciate your feeling that it is not one.



Akiyoshi Kitagawa (as of September, 2014)
Brief career history
It was born in Sapporo-shi for 1,978 years
Choice for 2,004 years with 42nd Ann-Arbor Film Festival
2005 eighth Chofu film festival prize for encouragement
2011 CANON photograph new century fine work
2011 group exhibition "Tokyo exhibition in 2011 in photograph new century" (Tokyo Metropolitan Museum of Photography)
2012 private exhibition "Akitoshi Kitagawa exhibition annoski" (Gallery Poetic Scape)
2012 group exhibition "Sendai exhibition 2012 in photograph new century" (sendai media take)
Photograph "1_WALL" is winning in the eighth for 2,013 years
2013 2013 KAWABA NEW-NATURE PHOTO AWARD Kawaba-mura prize
Memory art project (Shimizusawa, Yubari) of 2014 sorachi coal mine