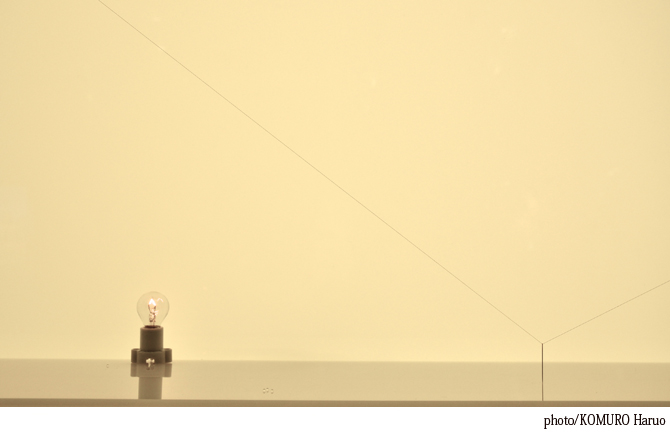 What is art box?
 Sapporo Station General Development Co., Ltd. presents "JR tower art project" since the JR tower opening of business.
"Art box" is exhibit space that we installed in the first floor of the JR TOWER east concourse for the purpose of providing place of new announcement as the part in artists of Hokkaido from 2008.
We will display excellent work chosen by open call for participants work sequentially.
 The 27th work display is Ikuko Imamura "practice of light".
 Imamura produces installation work reminding motif of far-off memory and self of people by trifling scene which there is in daily life including subtle light and sound, shadow and sign.
 This work is drawn into soft change of light in box slowly and gets into the inside while we do not know without knowing and the sense gradually meets mind.
 Please see original view of the world to let neat and clean feeling of strain hide behind by all means at this opportunity.
Display period: From Monday, December 1, 2014 to Saturday, February 28, 2015
場所 JR TOWER the first floor east concourse
Practice of light
(writer comment)
 Each meaning and story is in place and thinks that we may live while feeling that subtly. When light falls when it is from window made with intention of somebody at time and projects D Tyr of floor densely, and sinew of light appears from gap of door which has died and can see invisible time, we think that phenomenon lets intention of people, history and story of place rise. When anything which as we are concerned there as person of appreciation, can experience only there is born, we believe.
 We sketched while being conscious in space established this time in city what kind of approach was effective. Among crowds, to reach many people; big; it is necessary to speak, but must cry because but have a low voice, and reach, and think that thing such as big container that there are such layer and diversity and accepts is city.
In addition, when we passed each other to many people whom there would not be in meeting throughout the life in city, we felt like world shallowness and depth being shown off and produced in spite of being thought about vanity and eternity of our existence. It seems to contain "freshness" that is lost as time passes and, using motif which we can sense bodily forever, constitutes space being conscious of meaning and story to have of the place.
Ikuko Imamura (as of December, 2014)
Brief career history
It was born in Sapporo-shi for 1,978 years
2014 "memory art project of sorachi coal mine" former north charcoal power transmission line steel tower, Japanese larch station/Mikasa


2014

"Sapporo international art festival 2014" Odori, Sapporo basement gallery 500m Museum/Sapporo
Begin to see "*betsu art project" kyujutomo*betsutankosentanhodokoshi*naiishitanseki in 2013; Hopper/Mikasa
2012 "ART OSAKA" Hotel Granvia Osaka/Osaka
2011 "Living Art" Sapporo Art Museum/Sapporo
2010 "curtain" CAI02/ Sapporo
In colonial soldier-settlement south Elementary School delivery art [see all which do not fly of dream village] City for 2,009 years workshop,


2009

others/Sapporo
Writers - jokai*sensanro 50/Shanghai, China of bloom -N40 ° north of

2009

snowy district of Japan
2007 "writers coloring Sapporo art exhibition 2007 Sapporo" [memory of memory me of town] citizen gallery/Sapporo
2006 "front line of FIX, MIX, MAX! modern art" Hokkaido Museum of Modern Art/Sapporo


2006

"Exposicion de Ikuko Imamura/Arte Contemporaneo" Jalapa/Mexico