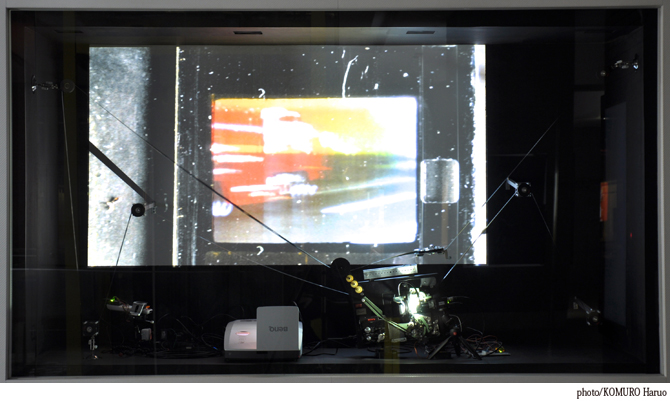 What is art box?
 Sapporo Station General Development Co., Ltd. presents "JR tower art project" since the JR tower opening of business.
"Art box" is exhibit space that we installed in the first floor of the JR TOWER east concourse for the purpose of providing place of new announcement as the part in artists of Hokkaido from 2008.
We will display excellent work chosen by open call for participants work sequentially.
 The 28th work display is Shunsuke Minami "TELECINE".
 The south pays its attention to structure itself that trip of projection by device itself and projectionist called film projector, picture work go to completion and produces work which did 8 millimeters of films and film projector to material mainly. We disintegrate and reconstitute original function and the meaning to have of film projector and perform "experiment" to try composition and conversion of projection.
 It is warm, and it is easy to get close like tone of analog record to become work using device called 8 millimeters of film film projectors and continues pursuing film, camera, film projector, possibility of movie from thought to say that we want to express charm that we cannot express with it is fresh besides and is digital deeply.
 Please see by all means at this opportunity.
Display period: From Sunday, March 1, 2015 to Sunday, May 31, 2015
場所 JR TOWER the first floor east concourse
TELECINE
(writer comment)
 This product is 8 millimeters of film film projectors, digital video camera, analog including video projector and video installation using digital picture machine parts.
 We visualize structure of movie by photographing film via gate of film film projector in video camera by 1 top, and enlarging with projector, and regenerating.
 Film that the display was set up on the loop passes in film projector many times during display period and continues carrying away the same picture.
 Film is damaged little by little each time and gradually wears down, and picture gradually disappears << vanity >>. That totally resembles in process when we lose memory slowly in unidirectionally irreversible time such as flow of river.
Shunsuke Minami (as of March, 2015)
Brief career history
It was born in Ishikari-shi for 1,985 years
・Main private exhibition
2013 "Shunsuke Minami live performance screening using five with remodeling 8 millimeters film projector"
That ZERO/ Tokyo that is

2013

   


2013

"experimental projection" salon cojica/ Sapporo      
・Main group exhibition
2014 "Vertical horizontal#01" CAI02/ Sapporo          


2013

"pulse of the north" Odori, Sapporo basement gallery 500m Museum/Sapporo       


2013

"ARTIENCE LAB" KRISS/ Korea, Ota


2013

"kokoro" jeune creation/ France Paris