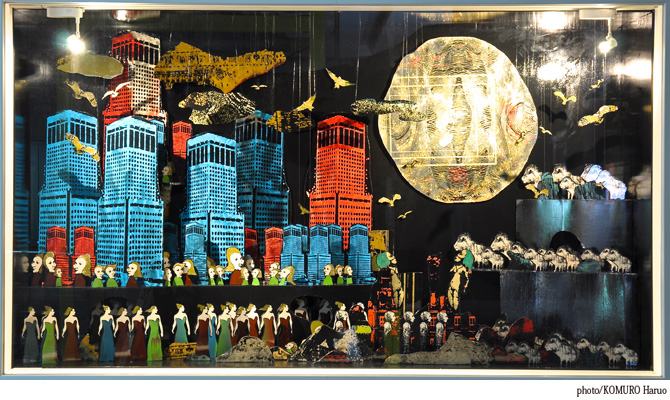 What is art box?
 Sapporo Station General Development Co., Ltd. presents "JR tower art project" since the JR tower opening of business.
"Art box" is exhibit space that we installed in the first floor of the JR TOWER east concourse for the purpose of providing place of new announcement as the part in artists of Hokkaido from 2008.
We will display excellent work chosen by open call for participants work sequentially.
 The second work display is matsuurasusumi "artificial propagation city" this year.
 We express obediently without being pure, and having possibilities to feel beautifully if "human being" whom Matsuura usually expresses has various feelings and greed, and that may feel terribly, and just denying the feelings. We bring handwritten sense into silkscreen and produce work which is ironical by rough touch.
This work is work which just expressed building and "town" where people of existing various looks, Matsuura including nature felt there so far. Please see work of matsuurasusumi where future achievement is expected by all means at this opportunity.
Display period: Tuesday, September 1, 2015 - Monday, November 30, 2015
場所 JR TOWER the first floor east concourse
artificial propagation city
(writer comment)
osoroshi kute is very pure, and there is human greed, and is also depression comb i.

Flower of the roadside cuts out article that both building and road hit the shelves
Everything exists there by human hand,
The meeting is called town.
Various desires and desires and dreams of people come and go in city.
We gather to grow more people from such thought,
We multiply more and more.

Town and thing are things [over there].

We made the world of such a rotation using technique of silkscreen.


Give Matsuura (let sell pine finish); (as of September, 2015)
Brief career history
It was born in Asahikawa-shi for 1,989 years
2012 private exhibition "ambivalence" (gallery Inukai/Sapporo)
2013 private exhibition "persona" (RED AND BLUE GALLERY/ Tokyo)
2013 JR tower art plastic Nets Grand Prix exhibition (JR TOWER PLANIS HALL/Sapporo)                    
2014 FEI PRINT AWARD(FEI ART MUSEUM/ Kanagawa)
2015 private exhibition "conscientia" (TO_OV café/ Sapporo)
2015 Tokyo Wonder wall 2015 (Museum of Contemporary Art Tokyo/Tokyo)

matsuurasusumi homepage
http://susumumatsuura.tumblr.com/