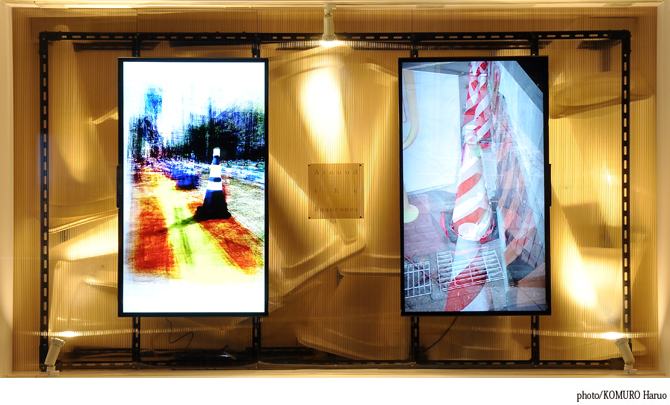 What is art box?
 Sapporo Station General Development Co., Ltd. presents "JR tower art project" since the JR tower opening of business.
"Art box" is exhibit space that we installed in the first floor of the JR TOWER east concourse for the purpose of providing place of new announcement as the part in artists of Hokkaido from 2008.
We will display excellent work chosen by open call for participants work sequentially.
 The fourth work display is Kit_A (Yoshiki Kita) "Around the Roadcones" this year.
 Mr. Kit_A produces work in photographs which recorded road corn and place, thing, person in everyday life by shooting function of cell-phone.
Please see work of Kit_A (Yoshiki Kita) which found art characteristics in scenery with road corn and road corn itself, in addition, taking that at by all means this opportunity.
Display period: From Saturday, March 5, 2016 to Tuesday, May 31, 2016
場所 JR TOWER the first floor east concourse
Around the Roadcones
(writer comment)
 Road corn is placed in place of "we alert" mainly.
That was the construction spot; is enough, and is building site and.
The color is fascinating, and it "is violent" depending on place placed in.
However, simply because "is just temporary"; as "there not having been"
We participate in "oversight" from consciousness of people.
Even as for the existence, it is road corn which "there was not".
However, it is not a lot, and shall person feeling attachment in the shape do?
Thing which photographed road corn in Sapporo-shi by this display
 In "putting together in terms of time" "thing putting on top of one another in layer,"
We assumed picture installation to highlight the existence.



Kit_A (Yoshiki Kita) (came quit, and come) (as of March, 2016)
It was born in Rankoshi-cho, Hokkaido for 1,966 years
2016 Hokkaido University of Education graduate school pedagogy graduate course completion plan
2012 private exhibition "Animals" (Ryuubuku, Urakawa-cho Mitsuo Kida Museum/Urakawa-cho)


2012

Art circulation - distance exhibition (Otaru citizen Museum/Otaru-shi) (in '10, '11)
2013 private exhibition "Speech Baloon" (gallery Miyashita/Sapporo-shi)
Mt.

2012

Haruka art fortress 2013 (spring Kayama/Otaru-shi)
"It is Roadcone with 2014 private exhibition ..."(Datong gallery/Sapporo-shi)
Spring breeze (gallery Retara/Sapporo-shi) from

2012

Haruka


2012

Northen Arts Collaboration 2014 in Sapporo (gallery Retara/ Sapporo-shi)
2015 JR tower ARTBOX public open call for participants Grand Prix receiving a prize


2012

Obihiro contemporary art 2015 minus art exhibition (former Hotel rumen and/Obihiro-shi)
Mt.

2012

Haruka art fortress 2015 (spring Kayama/Otaru-shi)


2012

HTB recommendation Festival HUE laboratory "hatcha on Dome" workshop plan design (K's Denki Dome/Sapporo-shi)



2012

Kit_A (Yoshiki Kita) homepage


2012

http://siaf2014cone.blogspot.jp