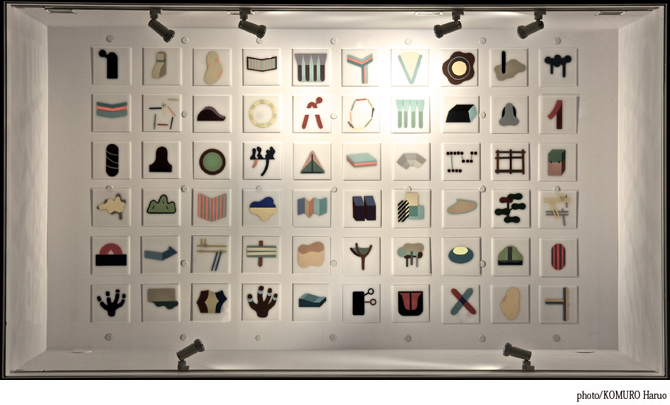 What is art box?
 Sapporo Station General Development Co., Ltd. presents JR TOWER art project since the JR TOWER opening of business.
"Art box" is exhibit space that we installed in the first floor of the JR TOWER east concourse for the purpose of providing place of new announcement as the part in artists of Hokkaido from 2008.
We will display excellent work chosen by open call for participants work sequentially.
 The first work display is Yuya Suzuki "city language" this year.
 Suzuki pays the attention to function of drawing as visual language and cuts everyday casual scenery or value and thought, figure which originally people are waiting for, and be tied, and put different things on top of one another and produce drawing that we abstracted. When that gather, and it was continuum, even sign that does not have image itself, meaning that appeared thinks that thing such as potential language of the town appears. Please see work of Yuya Suzuki that future achievement is expected by all means at this opportunity.
Display period: From Wednesday, June 1, 2016 to Wednesday, August 31, 2016
場所 JR TOWER the first floor east concourse
city language
(writer comment)
Series "city language" of drawing
We were based on town walk.
From scenery (things) seeing routinely in town        
It separates conventional meaning and function once,
Through process of drawing,                     
We extract "image" having self-subsistence newly.
By placing those images some other time in town                   
With function that image is new
We want to make the situation to appear.

Yuya Suzuki (as of June, 2016)
■Brief career history
It was born in Fukushima-shi for 1,983 years
・Main private exhibition
2012 "half, sekai, others with garden" Sapporo /CAI02
2013 "out of the music" Sapporo /CAI02
2016 "cultivation and walk" Sapporo /CAI02, salon cojica
・Main group exhibition
2013 "Jeune Creation 2013" sun Quatre/Paris
2014 "Artistic Dialogue" kleiner salon/Berlin
2014 "Sapporo international art festival 2014" Sapporo
2016 "gap exhibition" Sapporo/500m Museum
Artists it "being to need together" exhibition living in Hokkaido, now in 2016
It is/Hokkaido Museum of Modern Art (until June 23)