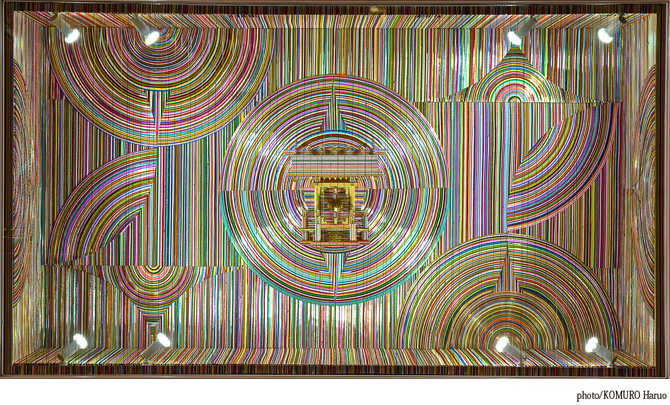 What is art box?
 Sapporo Station General Development Co., Ltd. presents JR TOWER art project since the JR TOWER opening of business.
"Art box" is exhibit space that we installed in the first floor of the JR TOWER east concourse for the purpose of providing place of new announcement as the part in artists of Hokkaido from 2008.
We will display excellent work chosen by open call for participants work sequentially.
 The second display is grand prix prize winner, Kazama zenith "Ebb-Ripple-2300" this year.
Kazama develops work to report in body sense that human being senses unconsciously while studying joint ownership value that religion and art can have with two titles called priest and artist. Because it is approximately two years ago that we have begun to use polygonum filiforme, and various expressions are born as a lot of types link each one from simple thing to shining thing, we take in in work. Please see work of Kazama zenith that continues carrying out a variety of activities at home and abroad while demanding interaction of "religion and art" in the present age by all means at this opportunity.


Display period: From Thursday, September 1, 2016 to Wednesday, November 30, 2016
場所 JR TOWER the first floor east concourse
Ebb-Ripple-2300
(writer comment)
 When go to various houses for prayer as priest, in tokonoma with Buddhist altar,
We notice that "culture" where we got into from various countries is mixed.
Therefore "polygonum filiforme" to see is used in both Buddhism and Shinto,
Originally we let sealing that entered at China agree with manners and customs of own country.
However, we feel that Japan's original "heart" is reflected in the root.

 "Ebb" means "ebb".
Japan is threatened by physical wave, social wave, various waves now,
We think that thing which changes form, and stays is true "culture" even if swallowed in any wave.
We arrange culture called the one "polygonum filiforme" with global figure,
We want to leave to the next times. This work came out of such thought.

Kazama zenith (kazamatenshin) (as of September, 2016)
■Brief career history
It was born in Higashikawa-cho for 1,979 years
2014 "- from the north of Ezotic Caravan - country" (Tokyo Metropolitan Art Museum/Tokyo)
2014 "Thinking of ENERGY" "from experience of FUKUSHIMA" (Lichthof/ Berlin)
2015 "DanDans - Une nouvelle generation d' artistes japonais" (Item editions/ Paris)
Institute of 2015 "The 4th Chongqing Biennale for Young Artists 2015"/Sichuan art Museum/Chongqing)
2015 "Tokyo Midtown Award 2015"/award for excellence (Tokyo midtown/Tokyo)
2016 "LUMINE meets ART AWARD 2015" winning a prize (LUMINE Shinjuku/Tokyo)

Kazama zenith homepage
http://www.tengshing-k.com/