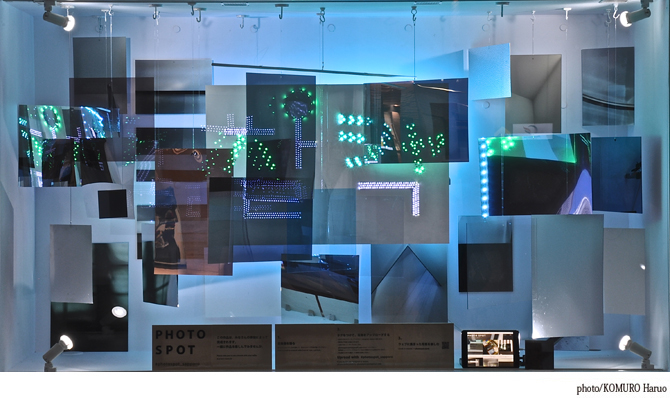 What is art box?
 Sapporo Station General Development Co., Ltd. presents "JR tower art project" since the JR tower opening of business. "Art box" is exhibit space that we installed in JR the first floor of the tower east concourse for the purpose of providing place of new announcement as the part in artists of Hokkaido from 2008. We display excellent work chosen by open call for participants work sequentially.
 The third display is ho炫* (paku hyonjon) "photo spot" this year.
 We produce photo spot in box to question about act to say, "we take photograph" some other time and promote aggressive participation of customer, and Park provides experience that is different from purpose of conventional photography. By performing photography at place where got used to, specific period, expression in place was accumulated in it; is recorded, and aim at oneself thing "making" using record and expression in special event in normal daily life. Please see work of ho炫* where future activity is expected by all means at this opportunity.
Display period: From Thursday, December 1, 2016 to Tuesday, February 28, 2017
場所 JR TOWER the first floor east concourse
Photospot
(writer comment)
From frame which always changes through mobile and light
We discover the "moment" when we met << story from chance >> that oneself is reflected and is crowded.
Japan-Korea onomatopoeia representing moment when we photograph that we are reflected to be piled there up and are crowded
"Pasha" and "찰칵."
As memory of the light is uploaded in designated website      
This space becomes place of record and becomes place of own expression.
We feel "what" "now, here", and do you take photograph?
And how do you see taken photograph?
Form and sound put in words and image, act to take and copied image,
We think about relations with the meaning representing ambiguity.
Normal place where we usually got used to from there that replied,
It becomes special "photospot".
(please post photograph in this web site. ▶www.photospot.work)
ho炫* (paku hyonjon) (as of September, 2016)
■Brief career history
It was born in Seoul for 1,984 years
2009 "So Far,So Near" Shiodome kurietazukompetishongurampuri
Photograph workshop for children who went in "SHUN Project" Fukushima Soma-shi in 2012
2013 Musashino Art University graduate school doctoral course graduation, molding doctor
2013 "picture, talks" Musashino Art University g-Fai
2,012-3 years "the sky, to and fro" gallery care of (Tokyo), empty honey (Nara), in the paper (Seoul)
It is Hokkaido University technology communication education study section CoSTEP special appointment assistant instructor as of ... for 2,015 years
www.imagesofpark.com