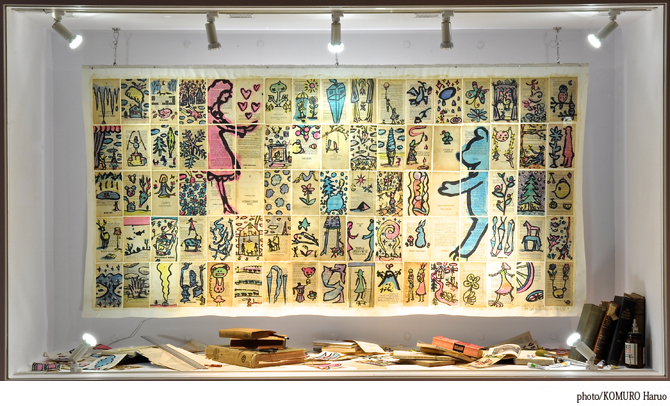 What is art box?
 Sapporo Station General Development Co., Ltd. presents "JR tower art project" since the JR tower opening of business. "Art box" is exhibit space that we installed in JR the first floor of the tower east concourse for the purpose of providing place of new announcement as the part in artists of Hokkaido from 2008. We display excellent work chosen by open call for participants work sequentially.
 The first display is etsu*shu "WONDERFUL HOKKAIDO" this year.
 This work draws new value by drawing things and existence that nobody of Hokkaido minded on old foreign book. Please see work of etsu*shu which continues making original view of the world by all means at this opportunity.
Display period: From Thursday, June 1, 2017 to Thursday, August 31, 2017
場所 JR TOWER the first floor east concourse
WONDERFUL HOKKAIDO
(writer comment)
It was opportunity to have picked up old foreign book which one day this work was neighboring dumping ground, and was dumped in large quantities accidentally.
We noticed picture and fun of linkage with letter not to be able to taste in white paper and campus when we scribbled for trial.
Thing which cannot find any value if it is thrown away as thing, garbage in surroundings as well as established art supplies and thinks commonly
Fun that sense of values changes by using for work.
We thought that surprising thing became theme when we looked around Hokkaido for such eyes.
When it is serene to touch diary and, in daily life, wants to describe having been interested in oneself and something which is impressed, and felt that it is beautiful
We thought.
etsu*shu (koshizawahideshi) (as of June, 2017)
■Brief career history
It was born in Takikawa-shi, Hokkaido for 1,961 years
The end of the Masters degree course in 1987 Tokyo University of the Arts oil painting course
1997 "etsu*shuhaku*kai" studio Kinshicho/Tokyo
1999 "rocket exhibition] Gallery Rocket/ Tokyo
2005 "HIDESHI KOSHIZAWA" Gallery The Modern/ Germany
2006 "scenery painting exhibition" Gallery Arte Casa/ Shizuoka
2012 "view which we saw sometime" Gallery Arte Casa/ Shizuoka
2012 "WOMAN" saitou Gallery/ Sapporo
2016 "collage of memory" Gallery COYA/ Takigawa

Others, illustration for Antipasto (apparel brand) textile,
Display work in INTAGE Akihabara building, 4 chome PLAZA sale posters,
Illustrations such as the ninth Sapporo international short story film festival main visual, binding, catalogue, magazine of book