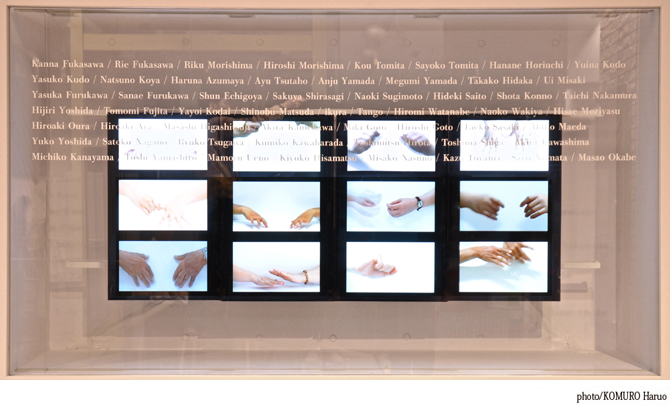 What is art box?
Sapporo Station General Development Co., Ltd. presents "JR tower art project" since the JR tower opening of business. "Art box" is exhibit space that we installed in JR the first floor of the tower east concourse for the purpose of providing place of new announcement as the part in artists of Hokkaido from 2008. We display excellent work chosen by open call for participants work sequentially.
The second display is Mayumi Horiuchi "improvisation (improvising) of hand" this year. We will express with display which set up dance (have you dance by hand) of various people of the hand in art box.
Display period: From Friday, September 1, 2017 to Thursday, November 30, 2017
場所 JR TOWER the first floor east concourse
Improvisation (improvising) of the hand of the hand
(writer comment)
"We met dance that it had nothing to do with, and even anyone could dance including having age, sex, obstacle or not called "community dance" while it affected performing arts.
While we saw a various people who danced, we came to think that there was "body sense" inherent each to people.
By simple method to move hand, the individuality vividly appears.
Improvisation (improvising) which had 56 any people regardless of age or sex move hand until 0 years old - 92 years old, and put that in camera of the hand.
It was judge of ARTBOX and had valuable cooperation from Masaki Okabe of contemporary artist for shooting of the hand.
Please see primary schoolchild, nurse, pianist, really various human body senses including dancer, "dance of so many men, so many minds of the hand".

Mayumi Horiuchi (as of September, 2017)
■Brief career history
It was born in Sapporo-shi for 1,984 years. We enter actor training school during university attendance at school more and begin theatrical activities. The stage activity is started with free after joining an organization, the dismissal from an organization by "drama laboratory ◉ universal gravitation". Taking the opportunity of childcare, anyone comes to deal with "community dance" and encounter, physical expression or dance work which can dance from baby to the elderly. We explore the making of work through physical sense, words, communication mainly while maintaining the stage and performance, picture, workshop holding. It is moving into action as performer, actor, dancer komyunitidansuwakushoppufashiriteta.
2014 impromptu play workshop performance "boundary SAKAI" product/constitution/direction
      It is exhibition in Sapporo international art festival 2014 cooperation business Hacoren "road"
2015 CAI X Readymade institution (Halifax/ Canada) "bakuru" exhibition
2016 Nishi-ku culture festival "SAPPORO CONTEMPORARY DANCE SELECTION" dance work "phenomenon" product/choreography/direction
      Patrol performance "mind wanderlust" in performance unit "castaway" Sapporo-shi product/direction
It is community dance work "mitori" product/choreography/direction in konkarinyo sponsorship "land free dancing!" for 2,017 years
      "Sapporo August festival leading" hosted by Sapporo Station main street district activation Committee PV appearance