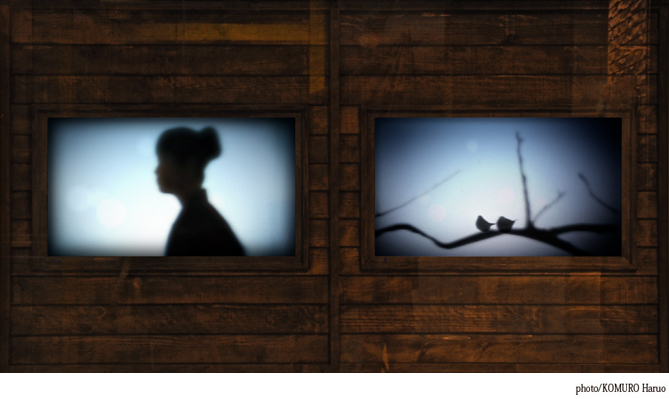 What is art box?
Sapporo Station General Development Co., Ltd. presents "JR TOWER art project" since the JR TOWER opening of business. "Art box" is exhibit space that we installed in the first floor of the JR TOWER east concourse for the purpose of providing place of new announcement as the part in artists of Hokkaido from 2008. We display excellent work chosen by open call for participants work sequentially.
The third display is forest Saaya incense "vacant blossoms" (utsuroginohana) this year. This work projects daily life of Showa in flow of time called 1st using technique of video installation (image system) shadow picture animation representing scene to be reflected in two windows. Please see work of forest Saaya incense by all means at this opportunity.
Display period: From Friday, December 1, 2017 to Wednesday, February 28, 2018
場所 JR TOWER the first floor east concourse
Vacant blossoms (utsuroginohana)
(writer comment)
In the passing times element of communication called synesthesia,
We think that it is property without changing in all ages.
Existence called family is one of a certain synesthesia in such people by all means in that,
We can say that it is element forming personality.
It is studded with background and elements with this work in the times of movie of Yasujiro Ozu who continued drawing Japanese families.
It is everyday one end that is projected, but shadow reflected by light of candle catches feelings to shake,
We project there synesthesia common to the present age across fiction across nostalgia.

Forest Saaya incense (or grow, and is sheath) (as of December, 2017)
■Brief career history
It was born in Ishikari-shi, Hokkaido for 1,989 years
We are a graduate from Hokkaido Univ. of Education Iwamizawa school for 2,012 years and are living in Sapporo-shi
2016 IMAGINE - art film makers ... (Sapporo/Tokyo)
2017 Windows of formossa film festival (Taiwan)
Viewpoint - (Tokyo) that ANIMALGAM01- is new
New Chitose Airport international animation film festival 2017 (Sapporo)
Taiwanese future movie week Sapporo special (Sapporo)
Forest Saaya incense private exhibition "Experimental YouTuber" (Sapporo)
Image forum Festival 2017 (Tokyo others, national patrol)
KYOTO VIDEO PARTY X EZO FILM (Kyoto/Sapporo)
*Youtube gourmet program "ChooseTV:" https://www.facebook.com/CTVsapporo/
HP: https://hyt7as.wixsite.com/polestar