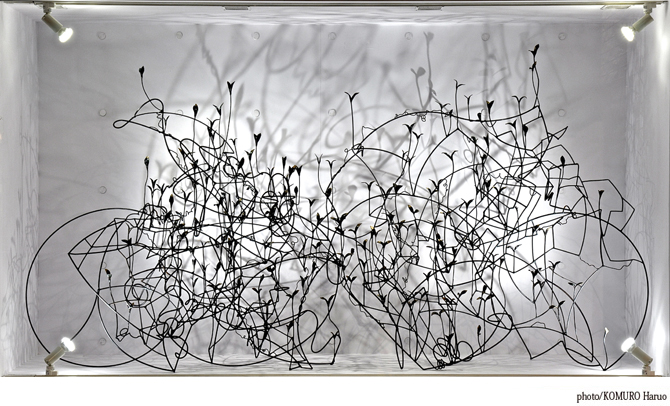 What is art box?
Sapporo Station General Development Co., Ltd. presents "JR TOWER art project" since the JR TOWER opening of business. "Art box" is exhibit space that we installed in the first floor of the JR TOWER east concourse for the purpose of providing place of new announcement as the part in artists of Hokkaido from 2008. We display excellent work chosen by open call for participants work sequentially.
Ayumi Sato "sees the fourth display only here" this year. Station space where atobokku is installed in is space where more people exist, and it is complicated form, and Sato arrests the place with space feeling beautifully and expresses at root and bud describing complexity of the people and straight beauty in iron wire. It is work which can feel spring to person to see from bud with green and luster. Please see work by all means at this opportunity.

Display period: From Thursday, March 1, 2018 to Thursday, May 31, 2018
場所 JR TOWER the first floor east concourse
We can see only here
(writer comment)
I imagine state of plants and cut,
We put in the glass and try to peep out.
What kind of drama rises under the snow?
Root and bud of plants living here,
We wait for spring under the snow and, during winter, breathe powerfully,
Root that grew complicatedly is close together intentionally and is connected with each other.
Unlike root, leaf looks straight up for blue sky for spring.
We made feeling to wait for thaw work.
Ayumi Sato (as of March, 2018)
■Brief career history
It was born in Sapporo-shi for 1,986 years
Hokkaido University of Education Sapporo school art culture course art course wood molding laboratory is a graduate for 2,008 years
The 2010 Hokkaido University of Education graduate school pedagogy graduate course subject education specialty art education specialization (metalcraft) end
We produce in joint studio, atelier Beehive/ (Sapporo) from design company retirement/(Sapporo), 2009 in 2013
Association of association of 2013 88th Hokkaido art exhibition prize
Association of 2014 89th Hokkaido art exhibition new colleague
2014 [Sprouting-Garden- sign yuru Forest]/Yuki Sekiguchi memory Museum
2014 [dim light rays] private exhibition/ROKKATEI Fukuzumi shop
2014 [work of tree and iron] joint exhibition/Tokyo galleria-ACCa
Association of 2015 90th Hokkaido art exhibition colleague Prize
Association of 2017 92nd Hokkaido art exhibition new member