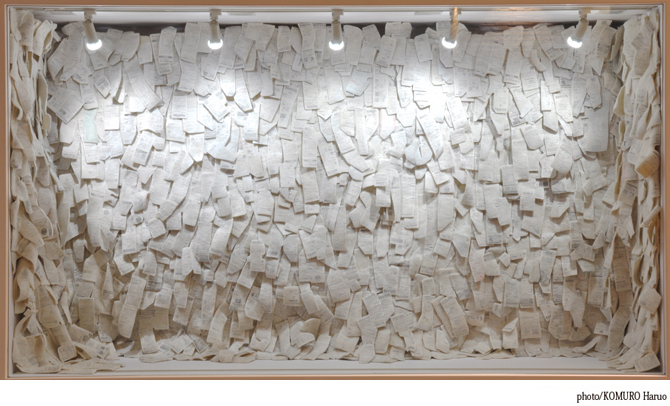 What is art box?
Sapporo Station General Development Co., Ltd. presents "JR TOWER art project" since the JR TOWER opening of business. "Art box" is exhibit space that we installed in the first floor of the JR TOWER east concourse for the purpose of providing place of new announcement as the part in artists of Hokkaido from 2008. We display excellent work chosen by open call for participants work sequentially.
The first display is Tomohiro Shibuki "or instant" this year. *moku performs activity to make newspaper and receipt, materials which became inessential including plastic package of plastic bag and food of convenience store felt with wool. We pay more attention to thing that it is unworthy to overlook anyone and bring about value. We make receipt felt with wool this time and express "question" to daily life. Please see work of Tomohiro Shibuki enlarging place of announcement at home and abroad by all means at this opportunity.


In addition, we are going to display work to held "JR TOWER art plastic Nets grand prix 2018" at the same time.
We assume Sapporo as society the basis of expression at unit in art plastic Nets in ARTBOX.
We are happy if you can enjoy the comparison.

"JR TOWER art plastic Nets grand prix 2018"
・Exhibit exhibition period from Saturday, June 30, 2018 to Sunday, July 22 10:00-19:00
・Venue JR TOWER PLANIS HALL (ESTA the eleventh floor)
Display period: From Friday, June 1, 2018 to Friday, August 31, 2018
場所 JR TOWER the first floor east concourse
Or instant
(writer comment)
This is textile which solidified in one year that author lived in.
We are made based on receipt for one year when we obtained in daily life.
Own secretage made by hand is to stare at self and is what we ask about self.
As for the work, memory that was there at the moment became thing and appeared and solidified as accumulation body.
We forget and focus on thing not to be usually conscious of of spider,
It is act to pick them up with consciousness, and to give up in the future.

Tomohiro Shibuki (as of March, 2018)
■Brief career history
"Art in the office CCC Awards" is winning for 2,012 years
2013 "JR TOWER art plastic Nets" award for excellence
Private exhibition "Tomohiro Shibuki exhibition"/art complex center/Tokyo
2014 "Shinjuku creators Festa 2014"/Shinjuku Nomura Building/Tokyo
"Behance Portfolio Review #6" award for excellence
2015 "Ensouler Design Festival yasusho**keiten"/truth bill of fare shop/Taipei
2016 "Design Harbour 2016 Hong Kong" /Lanson Place Hotel/ Hong Kong
"clair-obscur" /Untitled Factory/ Paris
/old folk house sora cram school/Tokyo where "we look at hem, and private exhibition is"
"Hokkaido writer exhibition "2020‒ people who should come"/cross hotel Sapporo/Sapporo
2017 private exhibition "segment of a line"/Clark gallery +SHIFT/ Sapporo
"100 degrees Celsius Charity Art Exhibition" /K11/ Hong Kong
"IN PURSUIT OF BEAUTY"/arts Chiyoda 3331/Tokyo
"ART BOX 2018" award for excellence