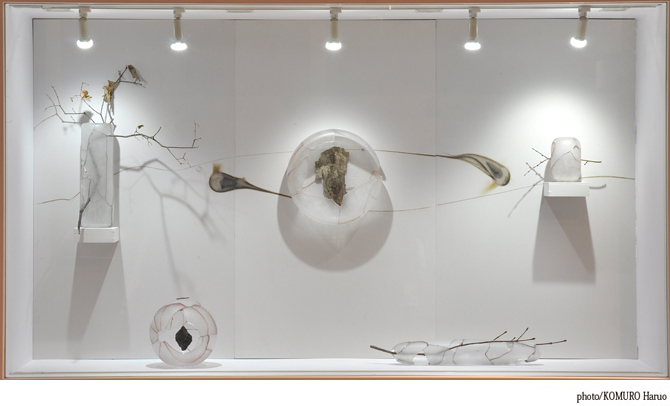 What is art box?
Sapporo Station General Development Co., Ltd. presents "JR TOWER art project" since the JR TOWER opening of business. "Art box" is exhibit space that we installed in the first floor of the JR TOWER east concourse for the purpose of providing place of new announcement as the part in artists of Hokkaido from 2008. We display excellent work chosen by open call for participants work sequentially.
The second display is to Hiroshi Uemura tree "thing to meet, and to hide crab" in this year. Uemura expresses invisible "thing" to eyes existing around our body with glass. Air and sign, person including memory imagine that. Thing which visualized them is work of Uemura. Uemura produces work on expressing with glass while respecting form to be completed naturally in process making glass not forming as oneself thought. Please see work of Uemura by all means at this opportunity.


Display period: From Saturday, September 1, 2018 to Friday, November 30, 2018
場所 JR TOWER the first floor east concourse
To thing to meet, and to hide crab in
(writer comment)
It hides behind in various quality that we selected in place of Hokkaido,
We do not look like eyes, but we can perceive and catch "thing".
Branch away from trunk and the bark which fell off.
Stone which spent long time, and condensed, and sharpened in time, and was polished.
We spin sign and memory to hide behind in world ounce,
We widen consciousness from the piece to connected much world.
We create temporary places to stay to drift, and to drift, and to quit "thing".

Hiroshi Uemura tree (top irregularity Hiro comes) (as of September, 2018)
■Brief career history

| | |
| --- | --- |
| 1990 | Sapporo-shi birth |
| 2010 | Akita public arts and crafts junior college applied fine arts subject graduation |
| 2016 | Art subject graduation that is a graduate from Nagoya University of Arts |
| 2015 | Private exhibition "date solution i" /LAD GALLERY/ Aichi |
| 2016 | "Is about depression stain" private exhibition;/Ise Museum of Contemporary Art/three folds |
| | Private exhibition "existing no view"/arutepiattsua Bibai/Bibai |
| 2017 | HIKONE STUDENT ART AWARD 2017 associate grand prix/Shiga |
| | Jingdezhen Creative Autumn Fair/ China |
| 2018 | With the seventh modern glass award exhibition in Sanyo-Onoda choice/Yamaguchi |
| | Toyama glass award exhibition 2018 winning/Toyama |