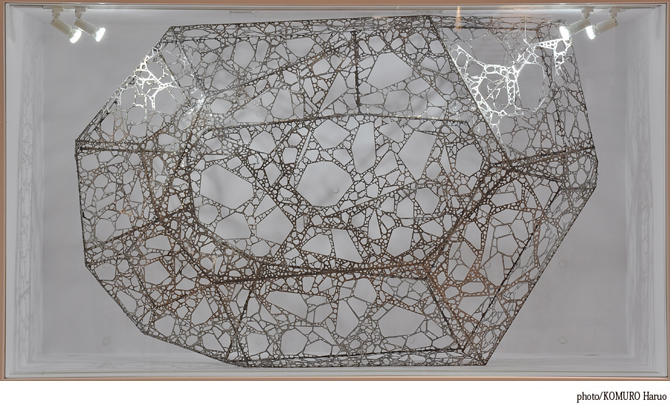 What is art box?
Sapporo Station General Development Co., Ltd. presents "JR TOWER art project" since the JR TOWER opening of business. For the purpose of providing place of new announcement, we install in the first floor of the JR TOWER east concourse from 2008, and "art box" displays four points of open call for participants excellence works in artists of Hokkaido as the part sequentially every three months from the next year.
River where as it is said that there is no applicable person about one point, the third work display was chosen by puropozaru method left in one point of grand prix, award for excellence two points can be given, and work display of 2018 is "CLOUD ROCK" (we say spider). The upper part of a river produces work to clue in relation with everlastingness and civilization of space at time in background of iron and performs question to essence. This work places solid of iron in imitation of form of rock and brings about state that relaxed everlasting time was confined in box and prays that we can send viewpoint and sense that jumped from how to catch everyday things a little. As we announce work becoming unpublished in this exhibition, please see by all means at this opportunity.

Display period: From Saturday, December 1, 2018 to Thursday, February 28, 2019
場所 JR TOWER the first floor east concourse
CLOUD ROCK (we say spider)
(writer comment)
We yearn, and it is attracted by rock of the earth.
In the form, this is because it feels that memory of long time when we cannot read is inherent.
ARTBOX is located on the wall of JR TOWER east concourse ticking away busy time.
We remove mass in that and place big rock which became image.
From moment called "the sky" which the surface in imitation of rock surrounds, we want to send magnificent space and sense of time.

Can go up river (kawakamirie); (as of December, 2018)
■Brief career history

| | |
| --- | --- |
| 1961 | Kashiwa-shi, Chiba birth |
| 2004 | "Freeman fund eleventh Asia n artist fellowship" receiving a prize /VT, U.S.A. |
| 2006 | "Agency for Cultural Affairs rising artist foreign countries training" /NY, U.S.A. |
| 2012 | "Sapporo culture prize for encouragement" receiving a prize/Sapporo |
| 2014 | /Sibiu, Romania in "Conditional Landscape"/gushuteritsua fortress church site |
| 2015 | Pyramid/Sapporo of "perceived art"/Moerenuma park glass |
| 2016 | Private exhibition [CAMPING NEAR THE WOOLEN MOUNTAIN]/gallery re thalla/Sapporo |
| | "Daegu Contemporary Art Festival in Gangjeong"/Taegu, the Republic of Korea |
| 2017 | Private exhibition "Landscape Will -On the Ground-"/gallery Monma ANNEX/ Sapporo |
| 2018 | "JR Tower Art Planets Grand prix Exhibition 2018"/associate grand prix receiving a prize/Sapporo |