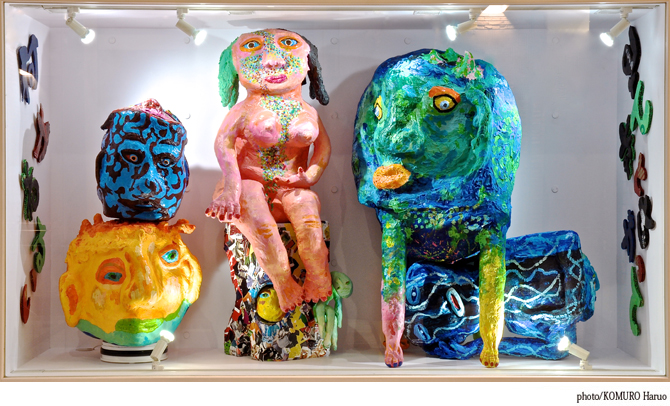 What is art box?
Sapporo Station General Development Co., Ltd. presents "JR TOWER art project" since the JR TOWER opening of business. "Art box" is exhibit space that we installed in the first floor of the JR TOWER east concourse for the purpose of providing place of new announcement as the part in artists of Hokkaido from 2008. We displayed open call for participants excellence work sequentially from 2009, but, from this year, it is display of (each display period three months) by for for each two sittings by two selection methods of open call for participants type competition and nomination type proposal of the work choice by the writer choice.
As for the first display, Junko Ozato chosen by open call for participants work "has bad what unlike all". We went to "CAI art school" of CAI contemporary art research institute which Ozato without art experience experienced modern art in 2016, and could learn and went to art school "Think School" of Sapporo Station main street town development more for two years in 2017, 2018 and learned theory of art in the basics and the present age of work production. We take in that it floated in mind not expressing only that we thought with head obediently and express for sense for oneself without being seized with common sense and custom. Please see work of Junko Ozato which continues making original view of the world by all means at this opportunity.

Display period: From Saturday, June 1, 2019 to Saturday, August 31, 2019
場所 JR TOWER the first floor east concourse
What is bad unlike all
(writer comment)
Society demands communicative competence to match with another person without giving own opinion.
People ... which makes an aggressive comment for people who cannot be relieved to sense air using mind in thing different from people and the circumference becoming impoverished in acting in such a society, opinion and action more different from oneself.
The world plays reasonable words, "it may be different from all".
I keep that out. We do not take part in that tuning pressure daringly. And we take out own heterogeneous part on the front.
I believe that I can notice <oneself new> from there, and I want to tell "to have bad what unlike all" straight.

Junko Kosato (as of June, 2019)
■Brief career history

| | |
| --- | --- |
| 1954 | Otaru-shi birth |
| 2016 | Institute for CAI contemporary art group exhibition (Sapporo) |
| 2017 | Sink school group exhibition (Sapporo) |
| 2018 | Sink school middle exhibition award for excellence (Sapporo) |
| 2018 | Sink school sotsutenhakuchosho (Sapporo) |
| 2019 | JR TOWER ARTBOX public open call for participants award for excellence (Sapporo) |
| | |
| | |
| | |
| | |