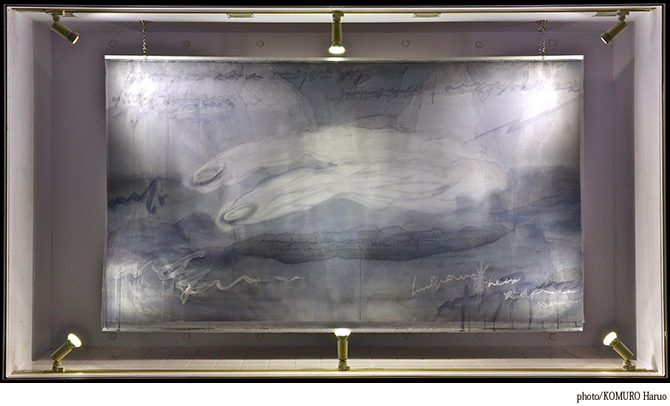 What is art box?
  Art box displayed open call for participants excellence work sequentially from 2009, but, from this year, it was display of (each display period three months) by for for each two quarters by two selection methods of open call for participants type competition and nomination type proposal of the work choice by the writer choice.
  The third display is the Tomoyo Kobayashi "bottom chosen by open call for participants work of the air". We are interested in signature that there is many that we are not going to consider though we compare just sign and feeling of pressure to sometimes feel to the word "bottom of air" in daily life and enter view or do not just pay more attention to, sign and omen that it turns around, and there is of the body and produce work which is conscious of space using plane, solid. We make original view of the world
Please see work of Tomoyo Kobayashi to continue by all means at this opportunity.

Display period: From Sunday, December 1, 2019 to Saturday, February 29, 2020
場所 JR TOWER the first floor east concourse
The bottom of the air
(writer comment)
It shows mass of air not to be usually conscious of on day of thick fog as substance.
We think, "here is the bottom of the air".
We forget that sounds if noisy ringing in the ears continues working.
Smell and wind equal to cheeks to feel after having passed each other all the time.
Main street of the early morning when there is nobody so as to think whether the noise in the daytime is dream.
There is nobody, but can follow sign of thing which there was over there.
I do not just see/not to notice,
We make work following quiet, strong sign to flow in daily life.

Chisei Kobayashi (as of December, 2019)
■Brief career history
It was born in Sapporo for 1,994 years
2017 Tohoku University of Art and Design foreign film course graduation
It moves into action based in Sapporo naebono art studio in 2017

Exhibition
2016 tell-1111- (Shinjuku ophthalmology art gallery/Tokyo)
Natural history (Daikanyama TSUTAYA BOOKS Building No. 2 Anjin floor/Tokyo) of - art northeastern for 2,016 years
2017 hitorigurashi free space (galleryTURNAROUND/ Sendai)
2017 buoyancy (TO OV cafe/ Sapporo)
2019 ART-LINKS2019 (Orieartgallery/ Tokyo)
Drawing (500m Museum/Sapporo) to consider in 2019
2019 between room (bookshelf/Shiogama of town)

Others
With 2015 Kiyosu-shi haruhi picture Triennale choice
2016 Japanese culture art foundation Kato constant scholarship scholarship student
2018 artist in residence End Of Summer (Portland, U.S.)