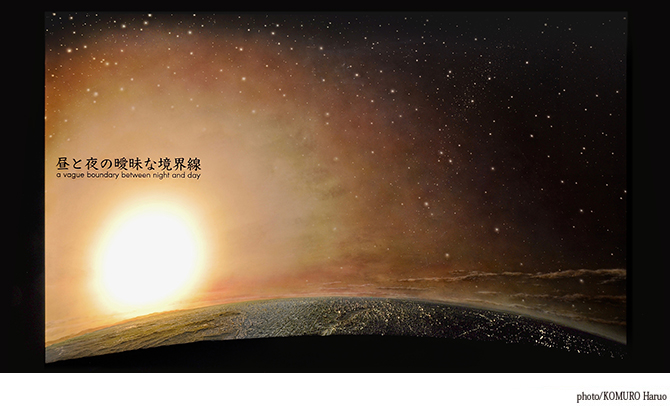 What is art box?
 Art box displayed open call for participants excellence work sequentially from 2009, but, from this year, it is display of (each display period three months) by for for each two quarters by two selection methods of open call for participants type competition and nomination type proposal of the work choice by the writer choice.
 2019, the fourth display is Fumiki Bando "noon and night vague boundary line" (a vague boundary between night and day) chosen by nomination type proposal.
 Bando restores scenery judging from dream with precision model, and we add society of reality to experience there in everyday life to model, and Bando creates dream and vague fusion of reality. They are totally described as real scene reality precisely and embody image of Bando. We display work of installation that this work picks illumination with model itself and places. Please see minute model of Bando by all means at this opportunity.

Display period: From Sunday, March 1, 2020 to Sunday, May 31, 2020
場所 JR TOWER the first floor east concourse
Noon and night vague boundary line
(writer comment)
In the sun in image, we go down only once in a life.
It may be voyage of the night sea long afterward.
Meanwhile, only once yearns for (interval) with lunch which there is not with night.

When we looked back on own life, there was often that we felt, "the sun set" after puberty when consciousness shifted from subjectivity to objectivity.
As for the scenery to remember before puberty, the sun strongly shined high in the sky, but changed from sunset into deep night in process that consciousness transferred.
Particularly, at "dusk in image" when the shift period is beautiful, we strongly remember.
It will be sign to leave for "voyage of the night sea" from now on, and that thinks whether it was not moment filled with feeling, fear, expectation.

Fumiki Bando (bandofumiki (contemporary art writer)) (as of March, 2020)
■Brief career history
It was born in Urakawa-cho, Hokkaido for 1,963 years
1988 wound form Beaux-Arts graduation
We are a graduate from uni-bar City of London, Goldsmith Courage Graduate School for 1,995 years
We produce work asking about the dim existence in interval of consciousness/unconsciousness consistently.
Solid, plane, photograph, method including installation diverge into many branches.
In late years we use model itself which we began for photography as material of installation and announce.