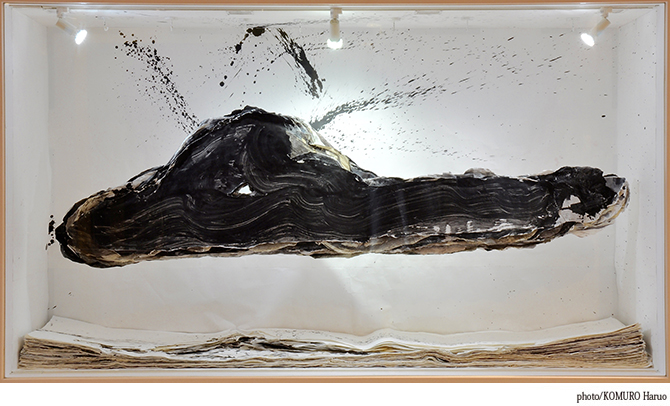 What is art box?
Art box displayed open call for participants excellence work sequentially from 2009, but, from last year, it is display of (each display period three months) by for for each two quarters by two selection methods of open call for participants type competition and nomination type proposal of the work choice by the writer choice.
The 49th display is An Moriya "koku, product ... what's called ... chosen by open call for participants work which is carved, and goes to intention".
Moriya produces sumi art work which makes act representing character statue with sumi of book. Not line and aspect with the simple light and shade, light and shade, "thickness and thinness of line" express "blur and various expression and profundity grazing", and sumi art to describe in one color of light and shade investigates art to know in the present age.
As it is work stirring imagination of person to see who is not seen in other solid works, please see sumi art of Moriya at by all means this opportunity.

Display period: From Monday, June 1, 2020 to Monday, August 31, 2020
場所 JR TOWER the first floor east concourse
koku, product ... what's called ... which is carved, and goes to intention
(writer comment)
The present is managed all on the past accumulation.
Sapporo Station that was ever reclaimed accumulates history in the present when many people gather.
Book is similar, too and is in love by accumulation.
We write several hundred times to make one work, and sense is carved with.
Only finished one point is work not work in the process.
We put hieroglyph called "soil" which we wrote with sumi of book which I accumulated on top of one another.
Like stratum which it was carved and laminated.
Sumi turns expression in the same way as soil.
Trace and color of sumi, the same thing are not made for one.
We want to convey charm of such a sumi elephant.

Anzu Moriya (as of June, 2020)
■Brief career history
It was born in Noboribetsu-shi for 1,998 years
We begin calligraphy in 2008
We belong to sumi straight meeting in 2017
2017 Sapporo municipal university entrance to school