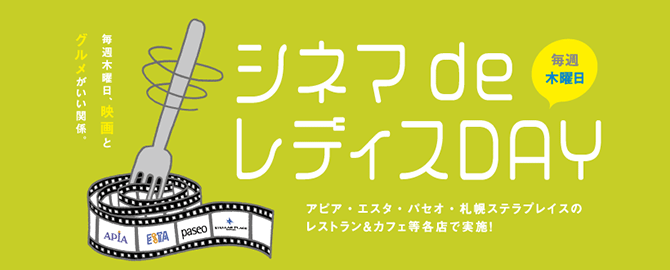 There be privilege in each shop, and be to restaurant & cafes of APIA ESTA paseo, STELLAR PLACE when you have you show movie today's ticket of SAPPORO CINEMA FRONTIER Lady's day (every Thursday) or the stub. Even man is available.
It is available to, three people of companion with one piece of ticket.

Price is tax-included
[West]
[center]
[B1F]
[9F]
[10F]
[West B1F]
[West 1F]
[center B1F]
[yeast B1F]
[yeast 1F]
[center 6F STELLAR PLACE dining]
[cafe]
[JR TOWER 38F]
※Contents of privilege may be changed without notice. Please confirm contents in each shop.
※With other services, privileges cannot use together.
※As for all the drink services, one cup becomes only for.