Usage guidance, application method
To person using open space STELLAR PLACE 9 of the sky
Open space STELLAR PLACE 9 of the sky will provide place announcing presentation of citizen's circle, activity of citizens including local event as "local community space".
At first, please refer even for person who wants to challenge new thing, those who wish to publicize company, consultation.
Contact information https://www.jr-tower.com/sorahiro_contact


[downloading of software for reading]
Acrobat Reader is necessary so that you see PDF file.
For more details, to Adobe Acrobat Reader download page
※Adobe, Acrobat Reader, logo mark of Acrobat are registered trademarks of Adobe Sysytems company.

About opening
(1) Period
・From April to October
(2) Time
・Spring, autumn :10:00-17:00 (4.5.9.10 month)
・ In the summer   :10:00-19:00 (from June to August)
・ In winter   :Interval will open only at the time of event in the winter season.
Application procedure
・We accept for one year of use day.
・Time in over telephone is from 10:00 to 18:00 on weekdays.
(we do not accept for Saturdays, Sundays and holidays, New Year holidays.)
・We accept email for 24 hours.
[instructions]

Please note that I may decline by the use contents.
Inquiry, application
Sapporo Station General Development Co., Ltd. Sales Planning Department event plan team
〒060-0005
2-5, Kita-5-jonishi, Chuo-ku, Sapporo-shi JR TOWER OFFICE PLAZA SAPPORO the ninth floor
TEL: 011-209-5089 (weekdays 10:00-18:00)
FAX: 011-209-5051
MAIL: sorahiro@jr-tower.com
Facility summary of open space STELLAR PLACE 9 of the sky
・Position   :The ninth floor of the 2, Kita-5-jonishi, Chuo-ku, Sapporo-shi STELLAR PLACE center (the roof)
・Area   :About 1,740 square meters of houses available area 780㎡
・Facilities :Bench, electric equipment, plumbing equipment, event board (switchboard)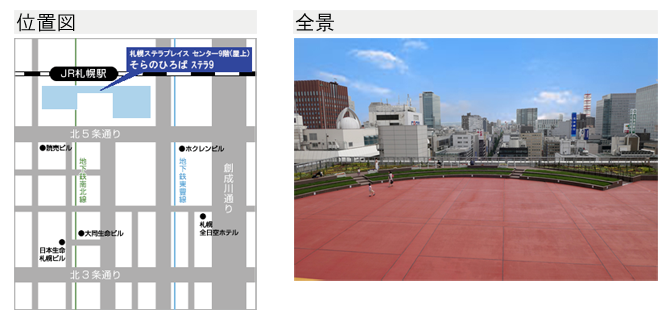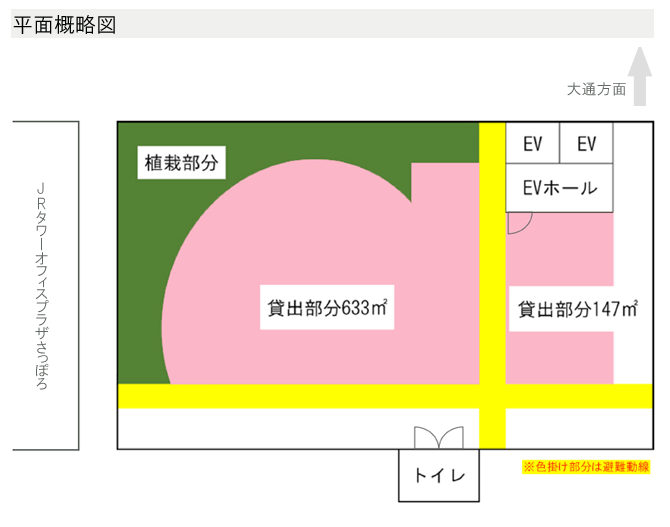 Use of open space STELLAR PLACE 9 procedure of the sky