Stakeholder (interested party) is a necessary person for the achievement of our company purpose,
We share joy and aim at developing together.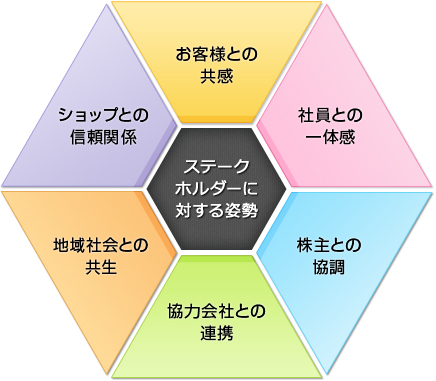 Announcement of compliance consultation counter
In Sapporo Station General Development Co., Ltd., we establish compliance consultation desk based on purpose of Whistle-blower Protection Act.
This window is us and company with business relationship, and working is window which consultation can report to when "we recognized action against laws and ordinances and business ethics and act that might be".

Consultation means to window
We can talk than letter, telephone, inquiry form.
When you talk, tell about company name, department name, full name, contact information, contact method to hope for.
After being consulted once, and having put, we may ask about more detailed circumstances.
We accept consultation by anonymity.


Letter
〒060-0005
2-5, Kita-5-jonishi, Chuo-ku, Sapporo-shi JR TOWER OFFICE PLAZA SAPPORO the ninth floor
Sapporo Station General Development Co., Ltd. "compliance consultation counter"
※Please specify with "Personal" in envelope.
Telephone
011-209-5598
(weekdays 9:25-12:30, 13:30-18:00)
Person in charge of compliance consultation counter
We can talk from the others mentioned above, this "inquiry" form.
※For person whom we talked with, we may not perform the disadvantageous handling from Sapporo Station General Development Co., Ltd.
 Please connect with window which you talked about when some kind of harassment is carried out by any chance.

Go to the top of this page