Moreover, in scenic dome of 160m above the ground, space can look around the connected big sky the earth of town of beautiful Sapporo and Hokkaido following forever. We introduce music made from special scale called "planet scale" into this scenic dome.
"Planet scale" is scale that old European thinker and scientists who thought that we replace position and movement of star of the solar system with pitch and can explain (Pythagoras and puriniusu, Kepler) found. Inherent pitch is assigned to Mars and the Venus, the sun and the moon depending on position and movement, and some scales are announced.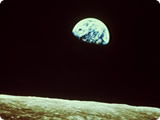 As for the music of scenic dome, such planet scale was produced to base. Music made from scale of current doremifasorashido is sound with different sound that is more tolerant, and is slightly mysterious of flavor. In addition, being over as for spread forever while changing unlike normal music that there is introduction, development, denouement and conclusion during several minutes and is over gently, beginning is music that there is not.
We felt harmony in space and we felt that it wanted to be connected to dream and romance of ancient people who associated there music and were made.

Music of scenic dome is programed in place and time.
In the sixth-floor entrance, shuttle erebeta, scenic dome on the 38th floor, different music plays each. It is music of different feelings and greets in scenic dome particularly on the 38th floor at noon and night. In the interval, it changes at the time of switching of the night and day by season.

One big symphony-like thing caught the whole, and music of this scenic dome touched total name and each movement title.
[MUSIC FOR AN OBSERVATORY] - SYMPHONIC SCENES (kohibikimatojokei)
1)

PRELUDE - SOUND FACADE (sound facade)… Music of the sixth-floor entrance

2)

INTERLUDE - DUO (Duo)… Music of shuttle elevator

3)

ROMANCE - LIGHT AND SHADOWS (music of light and shadow)… Music daytime scenic dome on the 38th floor

4)

PASSACAGLIA - A STARRY NIGHT (month and night of stars)… Music night scenic dome on the 38th floor